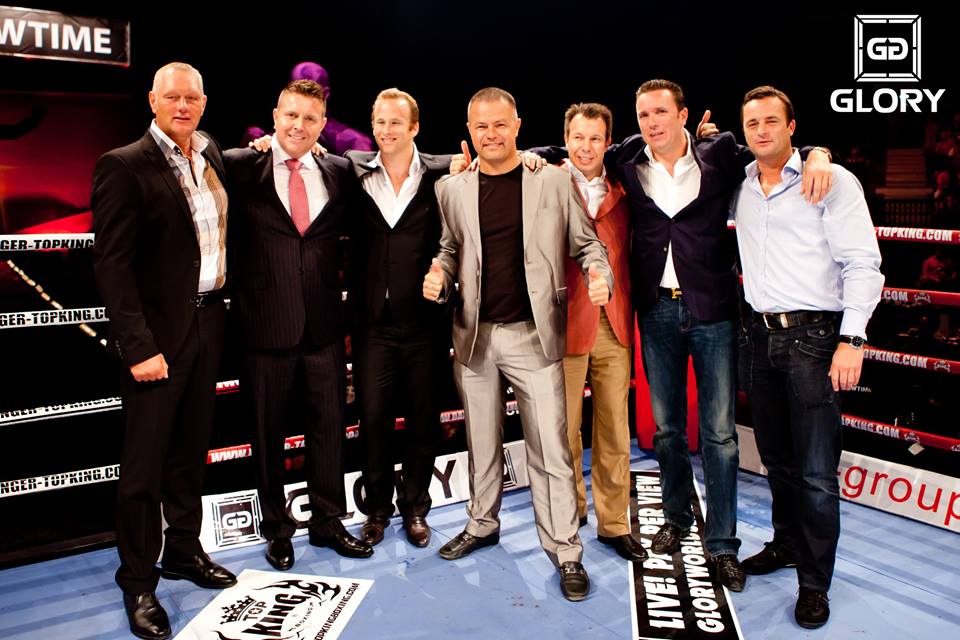 Golden Glory owner Bas Boon, GSI bought its Showtime. By: MMAjunkie Staff | June 30, 2012, 5:00 pm
http://mmajunkie.com Glory Sports International, the GLORY World Series kickboxing promotion owner, has purchased its competitor, It's Showtime.
Picture; Cor Hemmers, Simon Rutz, Pierre Andurand, Bas Boon, Scott Rudmann, Raymond Daalder and Bert vd Ryd
The deal between GLORY World Series and the Dutch-based It's Showtime is expected to be announced today on the live HDNet broadcast of "It's Showtime 58" in Brussels, Belgium. The deal will put the fighters under the It's Showtime banner under the GLORY World Series umbrella.
GLORY, which has offices in Holland, the United Kingdom, Thailand, Malaysia, and Singapore, also will take over other assets owned by Its Showtime.
"This is what the world of standup fighting has been waiting for – all the top fighters competing in the same series each time to find out who is the very best," stated Marcus Luer, GLORY's managing director. "GLORY World Series will be the ultimate platform and testing ground for these fighters to showcase their talent and skills."
Bas Boon Says with Glory buying Its showtime it is combining the best Kickboxing talent in the world.
Its Showtime, based in Amsterdam, was founded by Simon Rutz and has held shows since 1999. The promotion grew gradually until 2009 and 2010 when it held seven events each year. In 2011, the promotion put on 14 shows, establishing a place of dominance in the kickboxing world after the financial struggles of K-1. Earlier this year, It's Showtime, and K-1 agreed to tag-team on events under the new K-1 banner.
But GLORY's purchase of Its Showtime makes it the definitive leader in the sport (including fighter Badr Hari).
"By adding It's Showtime, GLORY has truly established itself as the No. 1 kickboxing league in the world," Luer stated. "This is what the fans have been waiting for, and we are here to deliver it."
Luer said announcements of a new GLORY series and a "modernized tournament format" are forthcoming for the rest of 2012 and 2013.
GLORY, which started in 2006 behind Golden Glory and co-owner Bas Boon, regularly holds 16-man Grand Prix tournaments.
Now, Luer said, with the addition of the It's Showtime roster, the sport gets a shot in the arm.
Simon Rutz and Bas Boon are friends again!

"The matchmaking possibilities will create some amazing fights, and fans will truly see the best competing against the best across all weight classes," Luer stated. "We are changing the landscape of this global sport."
It is Showtime 58 airs today at 3 pm ET on HDNet and features the retirement match of Peter Aerts, a kickboxing legend. He faces Tyrone Spong, who fights out of the Imperial Athletics camp in South Florida.
Golden Glory a winning team, UFC sold for 4 billion.
https://basboon.com/golden-glory-a-winning-team-ufc-sold-for-4-billion/
(c) Bas Boon www.basboon.com