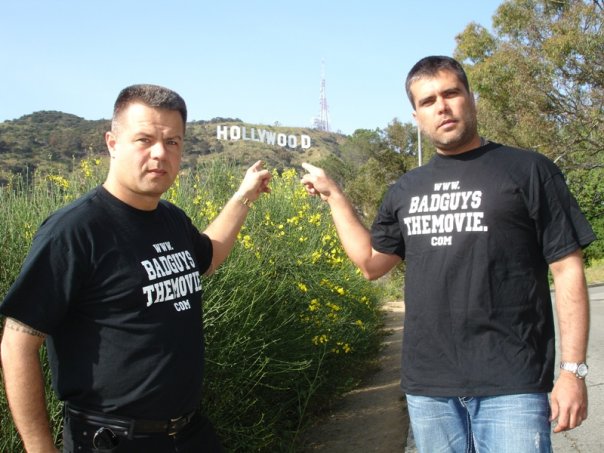 http://message.axkickboxing.com/index.phtml?action=dispthread&topic=16120
Posted: 2005-06-23 16:57:13
From Head Butts to Hollywood – Fight Promoters turned Movie Producers Frederico Lapenda and Bas Boon are doing the Hollywood Thing… No Holds Barred!
By: Emile Turner
When they first met over a decade ago, Bas Boon was already a noted player in the world of Martial Arts and fighting event promotions, a successful manager and entrepreneur with several on going concerns; while Frederico (Rico) Lapenda was an upstart promoter/manager with a short list of good fighters, lots of good ideas and all the energy the international fight game requires to become successful. In a business that necessarily breeds adversaries Lapenda and Boon became fast friends and eventually strong partners, staging some of the most exciting events in the fight game, including 100's of fighting shows seen by millions of viewers at arenas and on television in more than 10 countries on four continents. Vale Tudo, K-1, Pride and UFC event sponsors and fans all over the world know the names Lapenda and Boon as providers of unparalleled championship fighting action featuring names like Igor Vovchanchin, Mark Kerr, Semmy Schilt, Chalid "The Faust" Arrab, Heath Herring, Pedro Rizzo, Marco Ruas, Alistair Overeem,Stefan Leko and many others. While most manager/promoters would be satisfied with the kind of success Lapenda and Boon have achieved individually and as a team, these guys are known for thinking big-and bigger.
Frederico Lapenda is all about entertainment. As one of the most prolific and successful live and broadcast promoters/producers in the history of Mixed Martial Arts, Lapenda has created properties which have entertained consumers throughout the world. In his role as Chairman/CEO of Paradigm Entertainment Group, Lapenda is bringing his zeal for creating great products, his acumen in structuring financial packages and his loyalty to his heritage to run a production company unlike others in the industry.
"What we are actually in," says Boon, a Dutchman from the city of Einhoven in the Netherlands, "is the entertainment business." "And the entertainment business," adds the 36 year old Brazilian born Lapenda "is ultimately the movie business; because everybody wants to be in the movie business."
So the movie business is where these two successful promoters find themselves now as their first feature film project wraps up production in Los Angeles. Bad Guys is a crunchy noir/thriller with a fast talking cast of quirky characters, lots of guns, drugs and a blazing hot chick (The Biggest Latin television and film star Kate Del Castillo of upcoming Bordertown starring Jennifer Lopez and Antonio Banderas) at the center of everything. The film marks yet another joint project for this dynamic duo, and while it may seem like a stretch for a couple of guys more use to dealing with Kick Boxers than Actors, in fact, says Lapenda, it's not much of a stretch at all.
"The business of Producing is the same, whether it's a 16 man Round Robin event in a 60 thousand seat stadium or a television special or a documentary or a feature film… its all them same. It's about getting all the proper elements in place and executing a plan of attack to provide the best possible show for the audience," says Lapenda, the film's Producer and progenitor of the project. Bas Boon, the Executive Producer of Bad Guys, concurs and notes that he and Frederico have developed a number or projects for television that were great preparation for this undertaking, including several programs for FOX television in the US and Europe including, "The Red Light District," about the underground party scene in the brothels of Amsterdam.
These projects along with a number of reality programs and documentaries, were training for the novice filmmakers Lapenda and Boon, and set the stage for this next phase of their long partnership in the entertainment business.
"As I said before," explains Lapenda "all Producing is the same. What you have to do is put together the right elements to provide the best possible show for the audience. In the movie business," says Lapenda "that means finding a great script." Which, adds Bas, "Rico found and brought to me." On a single read Boon knew that he was about to take on a new challenge, and was more than willing. "When I read the script for Bad Guys," recalls Boon "I said… I'm in. This is gonna make a cool movie. I could see it in my mind just like I can tell when a fighter is going to be a champion. You just know." With script in hand Lapenda set about putting together the rest of the elements to make a first class independent feature film-including bringing some intriguing elements from the fight world.
"Fighters are actors," says Lapenda, "so we always wanted to find things for our guys to do in the right movie. This film provided an opportunity for guys like Ray Sefu and Quinton "Rampage" Jackson to prove that they are entertainers in the larger sense, not unlike The Rock or Arnold from back in the day," he adds. One might think this a chancy undertaking, but not so says Boon.
"A guy like Rampage has the ability to captivate an audience; this is true whether it's in the ring or on the silver screen. It just has to be the right part in the right film, and Bad Guys is a project that Ray and Q fit into perfectly. They are not the stars of the film, we have some great actors in the leads, but they provide and edge that fight fans will appreciate, and that will surprise movie fans, a lot."
Bad Guys's site www.badguythemovie.com has received thousands of hits on it's first month, fight fans from all over the world, asking when the is the movie coming up, fighters wanting to audition, and sponsors wanting to be part of the already so talked about sequel. It is rare that a movie has such a strong kick from the start.
As for the future-Lapenda and Boon are already planning a sequel to Bad Guys featuring a lot of thrills and the opportunity for even more of their real life action star fighters to play action stars on the big screen, an Chalid Arrab is one of the names that is buzzing here in Hollywood. Lapenda and Boon believe he is also going to be part of the new generation of stars.
"And we are not stopping there," says Lapenda. "We are working on films in various genres featuring famous actors from around the world, including two horror movies and a huge action film set in Las Vegas about dueling assassins. We are here to entertain you, baby… whatever it takes," says Lapenda. "And well do whatever it takes," adds Boon.
And I believe them.