Golden Glory a winning team, UFC sold for 4 billion. The Fight Game is booming like never before. Big shout out to Dana White and the Fertittas brothers. Turning a 2 million dollar investment into 4 billion.
The network of extraordinary entrpreneurs.
A few years ago I attended A-fest, an event that gathers an extraordinary community of change makers and visionaries. These people are driven by epic ideas to impact the world – entrepreneurs. employees, artists, leaders, innovators, visionaries and more.
The festival takes place twice a year in paradise locations around the world. Here you will receive powerful training, profound mind shifts. Bio – hacking techniques and life long connections, incredible adventures unique opportunities to multiply your impact and expand your game.
There is around 3000 applicants annually. I highly recommend A-fest. Many talks stood out for me, one was by Dave Logan, Logan wrote a bestselling book called "Tribal Leadership".
Traibal Leadership
In his book and during the talk he explains that if you have a group of 20 or more people who all are enthusiastic about working towards the same goal "Magic happens"!
As a manager in any business it is wise to hear and read about successful people and formula's. Even more important is to try out some of those suggestions in your own business. Find mentors!
In the beginning years of K-1, I'll never forget a talk I had with Mr Isshi. He was the founder of K-1. Isshi told me in 1998 when I was touring with him in the US, that fighters would fight practically for free in K-1. I did not understand, Isshi explained.
People want to belong to a team, a cult a club.
He said that the brand and the concept grew very strong in Japan and Europe. It became important for fighters around the world to say they fought in K-1. They were a K-1 fighter.
Surely the prize money for winning a K-1 GP tournament was great. Team Golden Glory won the title four times becasue of Semmy Schilt. But something he said made sense to me. People want to belong to the best and team, be a part of family, tribe etc..
They want to be associated with people who think alike. This is the same pattern we see with people who want to belong to Cults a certain Religion, Politics or Sports.
Team Golden Glory
Team Golden Glory started with two fighters Heath Herring and Gilbert Yvel. Within one year Semmy Schilt, Alistair Overeem, Valentijn Overeem followed. In a few years Golden Glory grew into a champions factory. Fighters like Sergey Kharitonov and Karaev joined the team.
We had fighters from Afghanistan, Bosnia, USA, Turkey, Morocco, The Netherlands, Russia, Denmark the list was endless.
Golden Glory qualification Tournament victories of Robin van Roosmalen, Nieky Holzken, Chalid Arab, Stefan Leko, Nieky Holzken, Errol Zimmerman and Gokhan Saki made the brand Golden Glory worldfamous.
4 x K-1 Tournament winner Semmy Schilt and K1 Gp winner Alistair Overeem made the domination complete. Mr. Isshi from K-1 might have scratched his head giving me that advice!
One decade later and Golden Glory ruled the K-1 and had fighters in Pride FC, Rings and Sengoku in Japan.
The first Golden Glory Gyms are opened, G.G Romania is opened and soon there were G.G gyms in Turkey, Moscow, Thailand, Georgia and Germany!
Golden Glory had become a small army and was recognized worldwide as one of the most dominant fight teams in the world.
The move towards the US was a natural reaction and so we did. Marloes Coenen became world Strikeforce champion and so did Alistair Overeem. Kharitonov's debut in Strikeforce resulted in a knock out victory over former UFC champion Andrei Orlovski!
Golden Glory had arrived and promoters in the states knew it.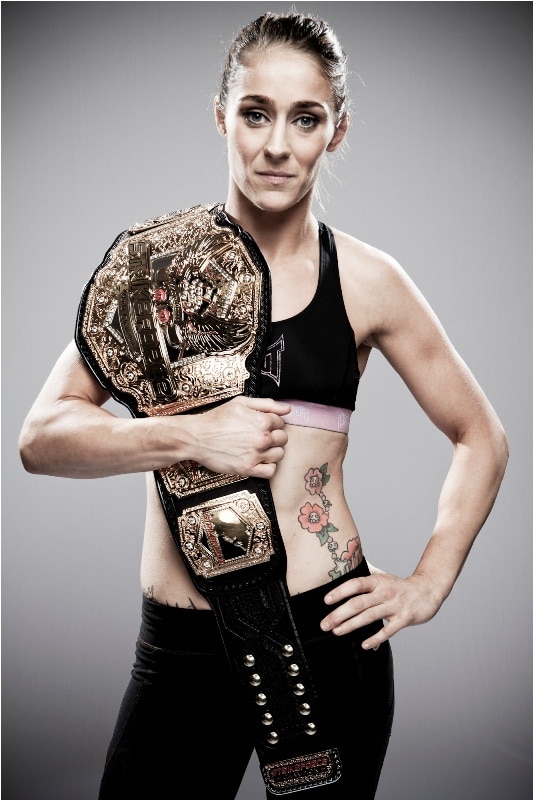 Golden Glory fighter Marloes Coenen World Champion Strikeforce.
At the height of  G.G fame I decided it was time to sell Golden Glory and Glory World Series to GSI. Every business should have an exit strategy and the timing was now. Even if they don't plan to use it.
K-1 was sadly in some troubles and Pride FC was no more, the glorious Japan days were over, it was time for something new. GSI did a wonderful job in making the new brand a global Kickboxing brand.
The credit does not come only to me as a founder of the brand, without Cor Hemmers, Dave Jonkers, Martijn de Jong, Bert van der Reyd, Remco Pardoel, all the fighters and many others this would never have become a success.
The investors took the brand to a whole new level, broadcasted in over 180 countries.
Talk about a success story:
https://money.cnn.com/2016/07/11/news/companies/ufc-sold/index.html
The UFC had a winning team the moment the UFC was bought by Lorenzo and Frank Fertitta the team was formed, Dana White, Joe Silva and commentator Joe Rogan plus many others wrestled through desperate times.
The UFC start, example of a winning team
Multiple times the brothers had to put money from their pockets, but the success came. The core of this story is again the team. They trusted each other and believed in each other (especially in good and bad days) and in the product.
The change came when William Morris Endeavour became involved (joined the team and used their network). They made the reality TV deal with Spike.
What followed was the famous fight Stephan Bonnar vs Forrest Griffen. Which goes down in history as one of the best fights ever, it turned everything around!
Turning a 2 million dollar investment into 4 billion.
Stephen Bonnar visting my Fight Game Camp Golden Glory Pattaya Gym in Thailand.
I want to thank this UFC team for what they did to the Fight Game Business. The fight purses would never be so high if it was not for your daring move to invest with great risk.
I am happy the investment paid off and that many people in the Fight Business can make a great living from these endeavours!
Dream: Special NYE 2012 Press Conference on Oct 25 with Bas Boon, Pierre Andurand and Scott Rudemann
A big Thank you goes to Pierre Andurand who believes in the sport of Kickboxing. He is not only a decent Kickboxer himself, but one of the smartest people I have ever met.
Golden Glory turned into Glory Kickboxing and became a household name in the Fight Game business. This made a dream come true for many fighters and people involved in the fight business.
I can't wait to celebrate my New Year again in the underground parking lot of the Saitama Super Arena waiting in a bus (sarcasm, see interview)!
Chapeau for these people!
Quote Bas Boon: The real obstacles are ego and greed, to create and build a team everybody wants to be a part of will lead to everything you need.
 "Never change a winning team"
The Intrigant disturbs any winning team, he is the virus preventing success!
© Bas Boon www.basboon.com