The UFC, politics, and Bas Boon about doping allegations. There are no rules and banned in 50 states, it's the beginning of the UFC, and the Semaphore Entertainment Group, with distributor Trimark, has a unique way of advertising the "human cock fights."
UFC in the media is named Human Cock Fighting.
The Ultimate Fighting Championship was often, in those days, compared to porn. It was a PPV product advertised as the world's most violent tournament. Bob Meyrowits, the owner at the time and co-creator of the UFC, tried within his means to get the UFC to be sanctioned in other states. But for that, he needed money and political connections.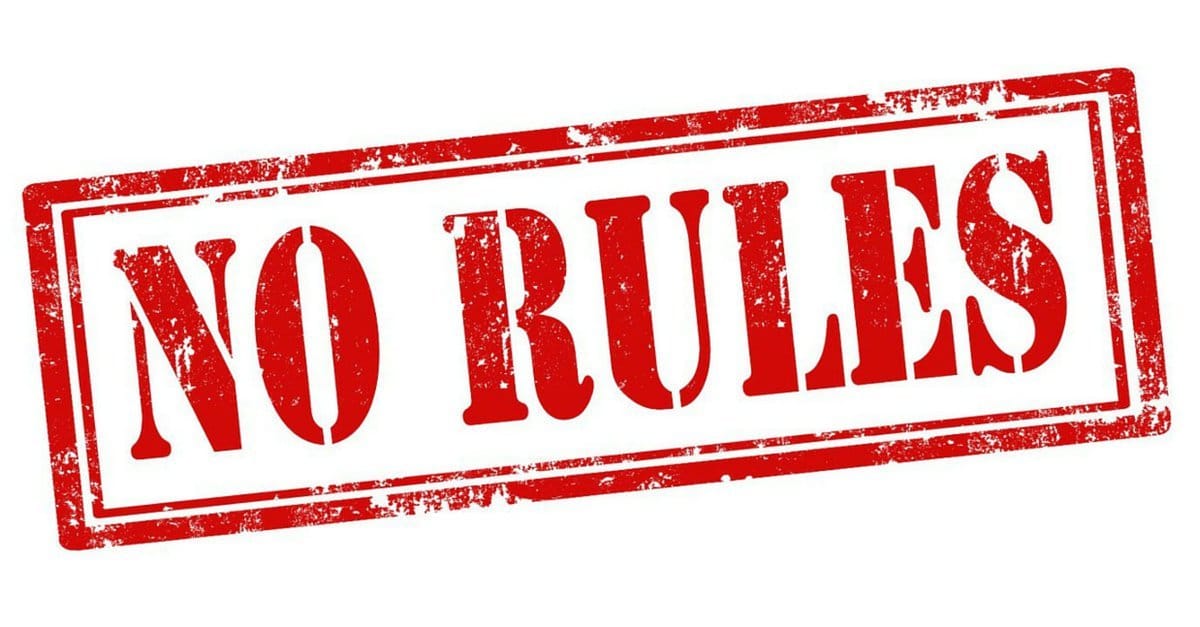 The UFC and Athletic Commission with Lorenzo Fertitta.
It did not work for Bob Meyrowits until he sold the UFC to The Fertittia's brothers. Lorenzo Fertitta was a member of the State Atletic Commission (1996 till 2000). He formed a team with his brother Frank and Dana White. Dana White suggested to the Fertitta's to buy the UFC. One of the most critical decisions and moves they made was to legalize the sport in more states.
Lorenzo Fertitta just happened to be in the State Athletic Commission. Later, people would argue that Meyrowits was unfairly treated by the Fertitta's. He never stood a chance to get the sport legalized in other states because the Fertitta's were not involved. People wrote it because Meyrowits did not want to change the rules. Or use small gloves for protection of the hands.
A brilliant move from the UFC owners.
I am sure there might be some truth in some of the rumors. But what the Fertitta's did was brilliant. It was pure politics, and they knew it. So what did they do? They hired Mark Ratner, who became the executive director of the State Athletic Commission 1n 1992. He started to work for the UFC on 15 May 2006. He became vice president of the UFC Regulatory affairs. His job was to get the UFC approved and organized in as many states as possible.
The doors opened when Las Vegas, the hometown of the Fertittas, welcomed the UFC. Now they had to find venues that would accommodate the UFC. Politicians and media often demonize the UFC as a dangerous event with lots of fights outside of the Cage, which was a blunt lie. 
The first sanctioned UFC Event.
The year 2001 was significant for the UFC as UFC 33 event was the first mixed martial arts event sanctioned by the Nevada State Athletic Commission. Under the Unified Rules of Mixed Martial Arts. The New Jersey State Athletic Control Board established these rules in 2001.
The New Jersey State Athletic Commission sanctions the first UFC event on November 17th, 2000. One of the people who welcomed the UFC under challenging times was now President Donald Trump. He even attended the first UFC in his Trump Taj Mahal.
Lately, in the press, we can see Dana White in the White House thanking Donald Trump for hosting the first UFC at the Trump Taj Mahal.
Semmy Schilt Ko's victory in the UFC Trump Taj Mahal over Pete Williams, what a fantastic trip. I won 75K in Trump's casino, and Schilt knocked out his opponent. Thanks to Dana White and Donald Trump (UFC May 31st 4th, 2011).
Mark Ratner completes the work, and this is the result.
Mark Ratner did a lot of work to get the UFC sanctioned in as many states as possible. But the most difficult one was, of course, the state of New York. The ruling politicians did not want it because of their personal opinions and feelings. It took over one decade of work before the long-time professional MMA ban was revoked in early 2016. The result was the biggest UFC fight card in its history. A sold-out Madison Square garden created a gate revenue of $17.700.000 and a PPV butyrate of 1.3 million.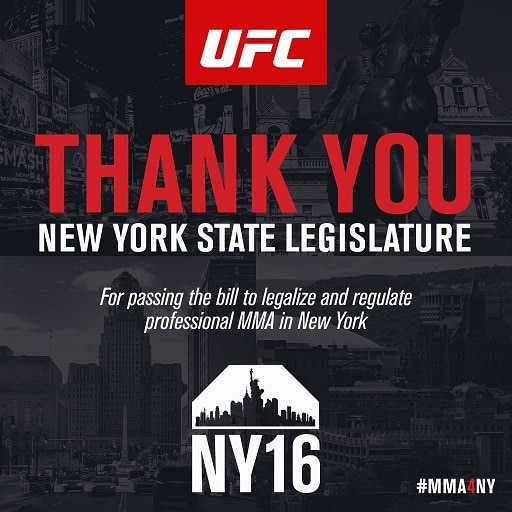 The Fight Game Business is Booming
It's not a typo, it should be Booming, but sometimes my narcissism is overwhelming.
On the other side of the ocean is Europe and after the downfall of K-1 and Pride FC in Japan. I team up with a brilliant finance guy and fight sports enthusiast Pierre Andurand. 
Golden Glory and Glory World Series were household names in the Fight business. And before the existence of Golden Glory, we organized many events around the world (I sold it to GSI). My dreams were shattered because of Dutch politicians. 
After I saw the UFC, it made me produce the first two cage fights in Belgium and Holland in April 1996. The politicians put tremendous pressure on the judges. Therefore the local majors of cities in Holland denied permission to organize MMA events in a cage. The reason is the lack of decency (I do not make this up).
She was doping in Pride FC and K-1, no problem!
K-1, Pride FC, the events are not under an independent organization's supervision. Such as the athletic commission in the states. It was the wild west, and there were no penalties or sanctions against using peds. You could argue that it was honest if everybody was using (some said 90% were on peds). Weirdly, this is ironically true. 
Then you could argue the following. It would mean the person using the most illegal substances would win. Fighters like Bob Sapp and Brock Lesnar should be almost undefeated. From experience, I can say this is not true. I am convinced that the person with the most powerful mindset would win. 
I can understand some fighters used cortisone and painkillers as they needed to be prepared for the next fight. They could not make an effort to cancel a row because of injuries or illness. Their profession was fighting, and they needed to make their living. In my previous blog, I wrote about Mark Kerr, and Kevin Randleman from Bas Boon Says. They needed help (micromanagement). There are always people who go over the limit. Many legislation /rule makers and politicians have never practiced sport for a living. And the ones who did become hypocritical.
K-1 and Pride FC proved for almost two decades that there were no severe injuries and never a scandal in the media. No athlete complains about being mistreated because of steroid use. The audience and fans expect top performance from the athletes.
Higher, Faster, More, Records
They are breaking records in the Olympics, higher, faster, and faster. The fans want to see their favorite fighter. He must fight a minimum of 6 times per year which in many cases happened during the Pride FC and K-1 days. Tournaments, world titles, more difficult mountains for a whole week in the tour of France. A more enormous mountain to climb, the media excites the performances. Just imagine never a doping scandal anymore—no more testing except maybe for hard drugs like coke.
A licensed doctor should guide all athletes. This way, the doctor can advise the athlete about abuse. The doctor's task is to inform what abuse will do to their liver, organs, and future erection problems.
Tyson vs. Holyfield in MMA or Boxing?
I stated in a previous blog that if you have Mike Tyson vs. Holyfield in boxing or MMA, what would people watch? What would the people watch if you have Mike Tyson vs. Holyfield in a clean fight or on Steroids? Will we punish a fighter who has a better diet and uses a better food intake? What about the athlete who takes more rest and practices breathing exercises in a Monastery? And therefore get more lung capacity?
Some athletes of different teams in the K-1 would use the same "doctor." And then they would joke to their opponents that they knew how much substances they took and that they did more!
Should athletes not decide this for themselves? Will we convict people who overeat sugar or drink too much? The athlete signs a waiver that he knows certain substances are not forbidden. He knows the promoter is not responsible for their preparations. The fighter or athlete agrees. Wouldn't that solve the doping problem?
The danger is overusing and taking steroids in combination with other substances. This can change an athlete, in this case, any person, into a ticking time bomb.
Tour of Doping
The UFC is nothing in compairisment with the Tour de France; we think it is generally expected that cyclers would go through the Pyrenees and Alpes. They climb mountains and win on a plate of spaghetti in a record time? At those times, they joked about the cycling sport. The actual "sport" was to avoid detection of the usage of forbidden substances. 
Marco Pantani from Italy won the tour of France at the Giro in Italy in 1998. Only five years later, on February 14, 2004, Pantani died. Pantani is only 34, and the hero of Italy dies broke and alone from Heart failure. And an overdose of cocaine (the usage of forbidden substances in 1998 was discovered in 2003).
Pantani wins the tour, but he dies broke five years later.
In this case, we can say that the scandal and getting caught cheating five years later drove Pantani over the edge. The headlines are "Pantani Dies Broken and Alone" (some similar path as Kevin Randleman in MMA).
https://www.theguardian.com/sport/2004/feb/16/cycling.cycling
Lance Armstrong won the tour of France seven times. The American cycler with the perfect story, fighting against cancer, beating the disease to become a seven times Tour the France winner. When it became known he used forbidden substances, they took away his titles. Armstrong, who had testicular cancer, must have regrown a pair of huge balls as he said the following: "I would probably cheat again under similar circumstances."
https://www.theguardian.com/sport/2015/jan/26/lance-armstrong-cheat-again-doping-cycling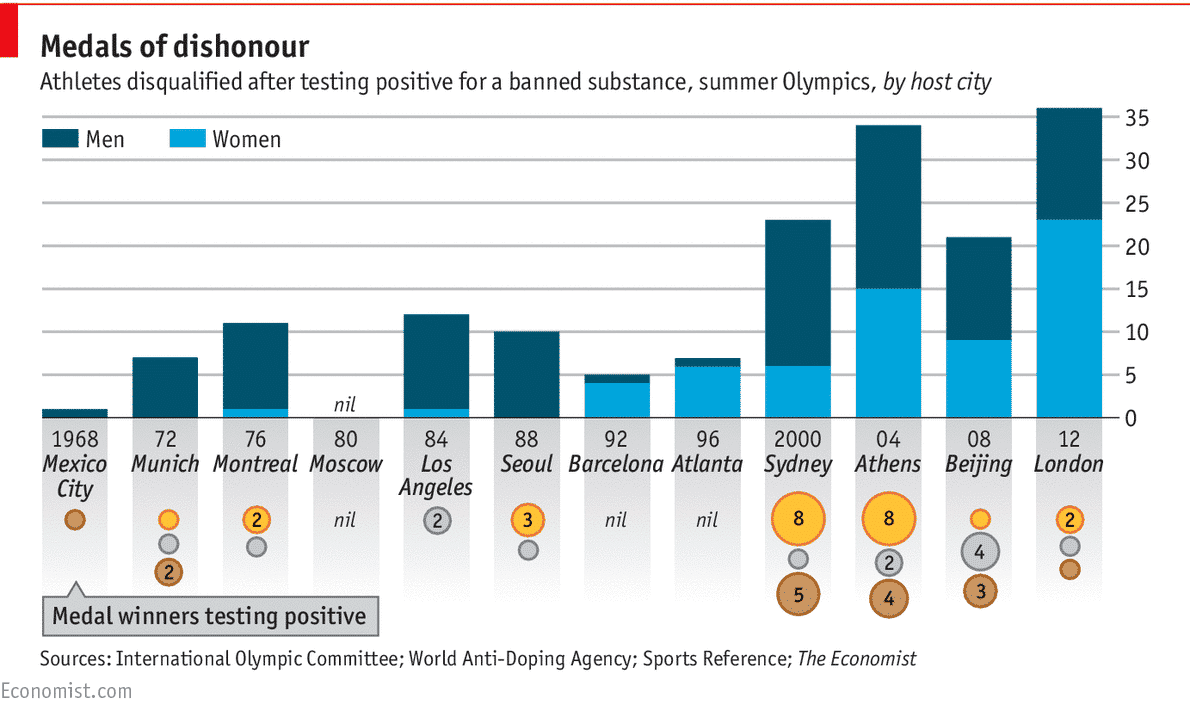 People Cheat in any sport.
Cheating athletes in any sport, like Ben Johnson (sprinter), Brock Lesnar (UFC), Luiza Galiulina (gymnast), and Marion Jones (American Sprinter). More examples; are Nicklas Backstrom (Swedish hockey star) and Andreea Raducan (Romanian gymnast). Or Tyson Gay (sprinter), Ross Rebagliati (snowboarder), and Johann Muhlegg (cross country skier). Then there is the list of American Football doping scandals, weightlifting, bodybuilding, etc.
https://www.bloodyelbow.com/2018/2/27/17058508/california-fines-jon-jones-205000-revokes-his-license-turinabol-steroids-suspension-usada
Athletes from all over the world cheat and many get caught. So why did only Russia get banned from the Olympics? Well, you guessed it: Politics.
I agree that we must protect these top athletes from hurting themselves and their loved ones. So, therefore, a commission that tests for doping and doctors who check for injuries is necessary.
If the athletes agree with the policies of fighting a clean fight, there is no excuse, period!
Authentic Doping Authority is now also for Glory Kickboxing.
Pierre Andurand is a visionary with Glory, and it became the first worldwide professional kickboxing league under the supervision of an authentic Doping Authority. It's because of the Fertitta's and people like Pierre Andurand that the fight sports industry has been lifted to the next level. The mainstream media loves it like pop culture.
Glory Kickboxing: Stimulants and doping
The use of stimulants before or during matches is forbidden. If desired, fighters are obliged to participate in a doping test. Stimulants and doping include, among other things, cerebral stimulants, amphetamines, and anabolic steroids. The UFC and Glory are leading the way.
"Political response" to doping accusations: Team Golden Glory Steroid Allegations and a "Diplomatic" yet
Hysterical answer from manager Bas Boon
After breaking the story to English-speaking fans, Zabit Samedov claimed that Dutch fighters. 'all used steroids." He directly called out Golden Glory by name. and Head Kick Legend went to Golden Glory's Bas Boon for comment on this subject. Bas is never one to give a simple "no comment" or a yes or no. Bas always has something to say, and this one took him a bit off-guard.
The first topic he takes on is Errol's "Bone crusher" Zimmerman. Zimmerman has never been the most cut and shredded of fighters. But has also never been the smallest, either. Boon points out that Zimmerman has been a heavyweight fighter since he was the age of 16, And his weight has been between 104 and 109kg during the last four years. He is training harder than ever before. Errol trained harder than (he ever has back) normal for this previous final eight spot, which resulted not in any weight gain but a loss in fat," states Boon.
Samadov is jealous. His accusations are hilarious.
Ruslan Karaev is a newer member of Golden Glory, and apparently how Samedov claims to know some of the inner workings of the gym, including their outlandish, in-your-face steroid usage that Samedov alleges. "Why would he call Samedov and tell this outsider Samedov that Zimmerman shoots steroids in front of his teammates? 
This must be the ridiculous remark I ever heard," Bas Boon states. "Maybe Karaev came to Holland to infiltrate the Golden Glory Camp and then brief Zamedov with the secret medicine Golden Glory uses? Did Zamedov get hired by the Athletic Commission who tested Zamedov positive himself?"
https://www.bloodyelbow.com/2009/12/28/1220944/serious-steroid-allegtions-made
Ouch!
Boon points out that fighters Gokhan Saki, Ruslan Karaev, and Chalid Arrab all fight under 98kg and have succeeded against heavier fighters. Child Arab won a tournament in Vegas. Samedov is "pissed he got caught doping in Vegas and losing the qualification match against Zimmerman in the Arena." Yes, K-1 was also promoted in Las Vegas. That fight was in 2008 in Amsterdam, for those keeping count, in the famous Arena that "It's Showtime" runs yearly. Boon also points out that Badr Hari, another of the accused, knocked Samedov out with a well-placed punch to the stomach in Korea in September. Pointing out that Samedov is bitter about his misfortunes.
"I guess it must be frustrating being Samedov's height and weight; to make accusations in the press as he does, we feel sorry for him," is how Boon looks upon the situation.
Semmy Schilt fell in the kettle with magic powers Elixer like Obelix.
Bas Boon's response to Golden Glory's crown jewel, "Hightower," Semmy Schilt's association with Golden Glory is another story. "Oh, by the way, Samedov, Semmy fell in this huge kettle of special made druid super energy drink (Astrix and Obelix). When Semmy was very young, we had many guys around the world trying to infiltrate the Golden Glory camp to find out the secret ingredients of this super drink." Samedove forgot Semmy fought in the UFC.
Boon's reply ends with a slight jab at the Belarusian fighter; "We wish Zamedov to grow in length and natural weight gain about 10kg. He would surely be sportsman number 1 and become a 5x in a row K-1GP champion!"
This answer is Golden Glory's denial of any gym-wide doping activities. With a few quite specific examples on Boon's part. Of course, many fans will note that Boon does not mention the "Dutch Cyclone" Alistair Overeem in any way, shape, or form. But Boon has addressed Overeem's "great growth" with us before.
http://www.headkicklegend.com/2009/10/02/bas-boon-of-golden-glory-on-overeem-fedor-k-1-m-1-and-more/
Answer from a fan: JonnieSunshine (664 posts) Posted: 2009-12-29 at: 08:23
People often use Sarcasm when they are hiding something.
I'm not saying that Samedov knows everything.
But Boon didn't admit or deny anything.
Bas Boon would be a good politician.
Quote from Bas Boon "the number one "steroid" is your thoughts."
Don't expect anything from nobody; make it happen yourself.
There are no coincidences in Politics; everything is planned that way.
In a fight, you can get knocked out, and it's over,
Politics are like Super Mario Bros; you always will have a spare life.
Golden Glory, a winning team, and UFC sold for 4 billion.
https://basboon.com/golden-glory-a-winning-team-ufc-sold-for-4-billion/
© Bas Boon www.basboon.com