Karma, Rule, or Law of Attraction in the Fight Game Business. Never burn your bridges in the Fight Business; here is why. September 2011 backstage in Tokyo, Japan. The other picture with Scott is in 2006 in Las Vegas (see below)
The first time I met Scott Coker was in May 2001 in Las Vegas at a K-1 qualification tournament at the Mirage Casino. Maurice Smith became the winner.
Back to the beginning of my fight promoter/manager career. In my youth, I organized with the company Oriental Fight promotions the "Night of the Shock," which included the headliner Maurice Smith vs. Peter Aerts in Amsterdam in 1993, and Aerts won that fight by a high kick Ko in round four.
The Combat Sports World is a Small World.
The Fight Game Business is a small world. Everybody in this industry has a fighting history in the fight business. Either they were competitors themselves or have been involved in the promotion of Fight Sports. The fighting genes run in the Gracie family, the son of Kickboxing World Champion Nieky Holzken = Geraldo Holzken. The son of World Champion Boxing Chris Eubanks = Chris Eubank. Jr. The daughter of boxing champion Mohammed Ali is Laila Ali, who became a professional boxer herself, and the list continues. It is almost inevitable Karma, the rule of law, the spouse will step in their parent's footsteps (in the fight game business).
The same goes for promoters and managers who have been active in this business. I chose this article's title for several reasons: Karma, experience, coincidence, faith, and what makes the world go around!
In my early days as a manager, I had the privilege of managing the incredible MMA fighter Igor Vovchanchin from Ukraine. I also briefly was the manager from Kickboxer, Peter Aerts from Holland. I was young and inexperienced in the fight game business. But I rolled into the profession because of my video and TV business.
Karma, Rule, or Law of Attraction (from my upcoming book)?
I will start with Igor Vovchanchin. We promoted many fights with Igor worldwide with my partner Frederico lapenda and George Koblyiansky. My company made a highlight tape and sent it to Pride FC and K-1.
We were excited as this young fighter from Ukraine was the next big thing in the fight business. So was my introduction to the way fight promoters conduct their business. I inform you that Pride FC was not interested. K-1 was curious, and they came up with an offer. I believe it was 40K for a one-fight deal. I refused, and K-1 eventually went up to 70K for this fight.
Together with Frederico Lapenda, I produced nine instruction videos with Igor Vovchanchin and a Highlight Video.
Peter Aerts and Ernest Hoost are Gods in Japan somehow; I negotiated double their fighting purse for a stranger.
We should remember that Ernesto Hoost and Peter Aerts were gods in Japan at that time. They won tournaments and became K-1 stars. But their fight purse was much lower than I negotiated for Igor (who had never fought in K-1 before). I did not know that at that time. But I would get a quick education lesson on how not to trust anybody in the fight business.
I told the K-1 that 70K was OK. Still, for an 8-fight deal, I was smart enough to understand that Mr. Isshi wanted to defeat and humiliate my new starfighter. I built with Frederico Lapenda and George Kobylyansky, making him a champion of the Absolute Fight Championship and World Vale Tudo Championships!
I want 500K for one fight with Igor vs. Ernesto Hoost or Aerts.
K-1 said we only would like to offer a one fight deal, so I said OK, one deal 500K or eight fights for 70K per fight. I understood that K-1 wanted to put my champion, which I managed against Ernesto Hoost or Peter Aerts, to show that K-1 fighters were the strongest in the world. Isshi's rule, K-1, is the best.
Understandable from his side, as Mr. Isshi was the promoter of K-1. Now Igor was an MMA fighter and relatively short. Suppose I had to sell Igor's image to be destroyed by some of my fellow Dutch fighters. A multiple-fight deal was the only thing that made sense. This way, they had to promote Igor and put him against opponents he could beat. I said, "OK, I could accept a one-fight deal, but you need to guarantee it will not be Aerts or Hoost. The answer never came.
Instead, the following thing happened:
My negotiations with K-1 came to a halt. Then somebody at PrideFC signed Igor Vochanchin his name was Kawasaki (booker for international talent in Japan). He and a blonde Ukraine translating girl for Igor Vovchanchin signed a contract with Pride FC.
PrideFC steals my fighter Igor Vovchanchin.
I was furious. I mean, I promoted all these fights, stuck my neck out, did the matchmaking and the production, and promoted Igor worldwide. Frederico and Bas Boon made this guy a tournament champion. We gave him a world stage to boost his image and popularity. And we made a nine-tape instruction video series with Igor and a highlight tape with the best knockouts. I gave him the nickname "Ice Cold" and edited his highlight tape from my footage which I sent to Dream stage Entertainment/PrideFC.
Now some woman just took all that away. Igor was the dream fighter for the Pride FC promoters. He would accept every fight against anybody for peanuts. My head was spinning. Did I deserve this Karma? I did follow the rule I read in books. Was, did my law of attraction?
My Russian partner George Kobyliansky was side-lined, and the Pride booker Kawasaki approached the blonde translation girl from Igor. They made the blonde girl necessary by only rewarding her with an offer from Pride FC. This technique was used by many promoters in the future when they did not like the management. Igor became a star in Pride FC, and I received not a penny but a speed lesson in leadership.
Karma, and the Law of Attraction at work, We meet again!
I became the founder and manager of Golden Glory. In the beginning, the Japanese did not know I was behind this management. But after a year, I started to travel to Japan as well. They now knew they had to deal with me. Initially, K-1 and Pride Fc worked together; sometimes, they exchanged fighters. Indeed, I was not surprised that Igor Vovchanchin still holds the longest streak of being undefeated in MMA. He became the finalist in the PrideFC Open weight category!
Ernesto Hoost vs. Igor Vochanchin July 18, 1999
It did not surprise me that PrideFc agreed (probably got 500K or exchanged for another fighter) with K-1 to borrow Igor to fight nobody else than Ernesto Hoost. Surprise surprise! I felt terrible for Igor. I knew what was coming, Karma. Ernest kicked Igor's legs into a bloody raw meat mess. I had empathy for Igor; I never blamed him for anything. He did not know. Hoost wins by three rule knockdown by low kicks (I must have been Nostrabonus then).
Here comes a lesson on why you do not burn bridges.
Golden Glory fighter Heath Herring was doing well, and so was Alistair Overeem in Pride FC. Heath Herring's contract ended, and I had to renegotiate his contract. He had one more fight to go on his contract. His opponent was Igor Vovchanchin. It's February 24, 2002, and Heath wins the fight by decision. Bas was smiling, standing in front of the Dream stage office Hilton Hotel Room door. A perfect example of the law of attraction.
Bas Boon entered the room, and before anybody could say a word, I asked Sakakibara, do you remember how I lost Igor's management? Karma is a bitch. I came to present the bill and smiled. But Sakakibara kept things professional, and we agreed on a new contract. To complete the Karma circle on June 26, 2005, Alistair Overeem submitted Igor Vochanchin in round one. Golden Glory made his mark! Sakakibara did not burn any bridges. Indeed more difficulties came in the future, but we always stayed connected.
Keep winning is the best revenge.
The best "revenge" is to keep winning. Semmy Schilt had three wins in Pride FC. It is April 21, 2002, and the Pride FC staff is asking me if I would accept a Kickboxing fight with Semmy Schilt against Mushashi in K-1. I did not have to think long about the offer. I agreed if the fight purse was the same as his agreement in Pride.
Semmy Schilt won against Mushashi, his first fight in K-1. I just smiled the law of attraction at work; more good Karma is coming. On August 28, 2002, Semmy's second fight was in Shockwave before the record sold-out stadium. 95.000 people, he fought multiple K-1 GP champion Ernesto Hoost. Three years after Hoost won from Igor Vochanchin. The judges drew the fight, but everybody knew Semmy won each round. His career in K-1 just became real! The little Hoost dance victory from Semmy Schilt was epic and one of the highlights of Semmy's career!
Semmy Schilt does the Hoost dance.
I went through a similar process with Peter Aerts and later with promoters like the UFC and Strikeforce.
The details are in my book. Again I learned how to work with all the advocates in the business. My understanding of the law of attraction entered a new area. This fight community was a cutthroat business. And to be honest, as a promoter myself, I would go to great lengths to protect the company and manage the fighters. Learn from my previous experiences and try to improve my position as a manager and promoter. An arrogant attitude would result in bad Karma. I knew this.
Scott Coker was a K-1 promoter in the US!
Scott Cocker is another promoter who has a lot of experience and has been a fast learner. I met Scott a few times in Japan and later as a promoter of K-1 in Las Vegas. By then, Scott realized he would bump into me frequently as my Team Golden Glory was the supplier of very talented kickboxers in K-1. Again the law of attraction at work. Stefan Leko won the K-1 Qualification Tournament in Vegas twice. Chalid Arab from Golden Glory also won the Vegas K-1 Gp 8-man qualification tournament.
Scott started Strikeforce, and he promoted great shows. With several people's help, Scott became a treat for the UFC. I supplied Kharitonov, Alistair Overeem, Marloes Coenen, and Vadim from team Red Devil / M-1 with Fedor Emelianenko. By now, this new Strikeforce tournament included Werdrum and Big Foot, which got a massive buzz in the US. At one point, I suggested that Scott work with Dream, K-1 in Japan, Glory World Series, and Golden Glory to create a fist against the UFC.
I suggested combining our strengths, Strikeforce, Golden Glory, Red Devil, and Dream vs. the UFC.
The surprise was when Scott announced he sold Strikeforce to the UFC. I felt horrible and used, but Scott explained to me later that this was a decision the investors of Scott made, turning away the blame. I learned my lesson in the past and tried to stay calm (following my rule, which was extremely difficult). Siyar Bahadurzada lost his cool about Scott Cocker and called him names in the press, which was unprofessional. I tried to repair the relationship between Scott and Siyar, but the damage was severe. I have to admit and admire that Scott stayed professional and did not scream or whine in the press. Scott knows about Karma and the Law of Attraction.
https://www.bloodyelbow.com/2011/8/11/2357158/ufc-strikeforce-news-golden-glory-bas-boon-overeem-release
Scott Cocker is a professional. He kept his cool.
Scott could have made his points in the press and defended his situation, but he did not, making him an intelligent promoter. It did not surprise me that he became CEO of Bellator after his non-compete was over with the UFC. Good Karma for Scott, a reward for his patience and professionalism. I have a feeling I will meet him again soon. The fight business is a small world, and it's better not to burn bridges. Scott's deal was not bad for the former Strikeforce fighters Daniel Cormier, Nick Diaz, Ronda Rousey, and others. They were all able to become successful in the UFC. Good Karma for them too.
I would also be a hypocrite to convict Scott Cocker for his decision (sure, at the time, I felt betrayed). I later sold Golden Glory and Glory World Series and my fight library to GSI similarly.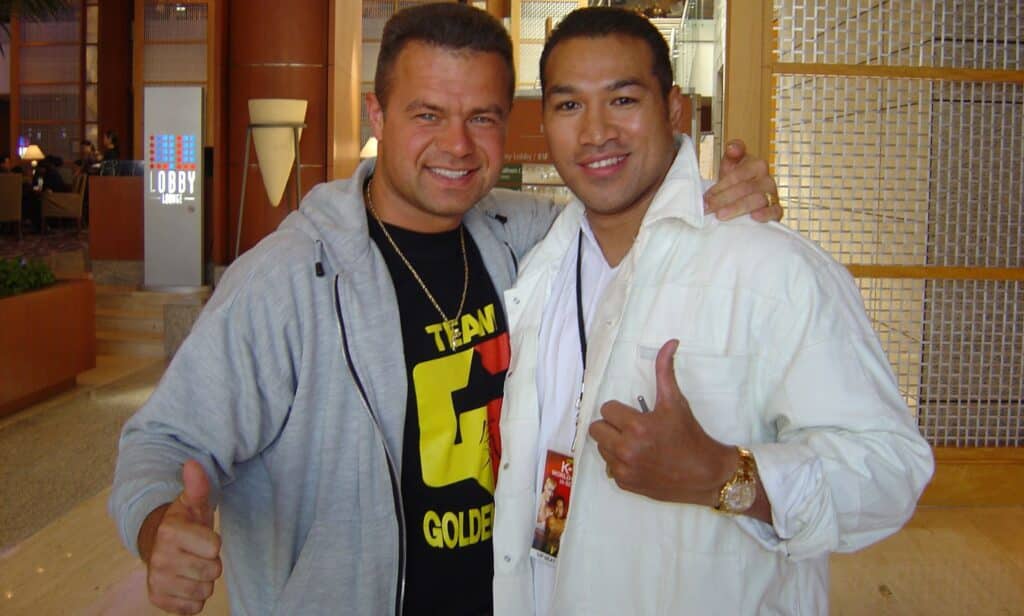 Ray Sefo is a great guy and deserves all the credit for being an entrepreneur after his fighting career!
Ray Sefo, the former Kickboxing World Champion and K-1 star, is now President of Fighters Operations at the Professional Fight League Organisation. The PFL recently received a 28 million $ investment (former WSOF). They announced their new team of commentators who do not need to have an introduction. Everybody in this latest fight organization has been active in the Fight Game Business for decades. To name a few: Randy Couture, Bas Rutten, Yves Rutten, Yves Edwards, Caroline Pearce, and Todd Harris.
https://mmajunkie.com/2018/04/professional-fighters-league-exclusive-pfl-roster-reveal-wsof-millionaire-tournament-mma
I will soon become a father again, and I will call my son Kato Boon (on my brothers' side, there is already a Bruce Boon). I am convinced he will take after me and become a great promoter in the fight sports or a successful fighter himself. However, If he decides to become a soccer player or hedge funds manager, he also has my blessing.
I will try to teach him to care about fellow human beings and to be a good person. I am based in Thailand and have called it home for over a decade, and I can tell you, KARMA IS REAL! Is the Law of Attraction coming for my son?
Make Love Not War.
Making enemies and destroying something is easy. Having long-term friends and business relationships is precious.
Quote Bas Boon:
The boomerang effect of bad feelings is only one negative thought away!
Good Karma comes to those who have positive thoughts and simple actions!
Golden Glory, a winning team, UFC sold for 4 billion.
https://basboon.com/golden-glory-a-winning-team-ufc-sold-for-4-billion/
(C) Bas Boon www.basboon.com