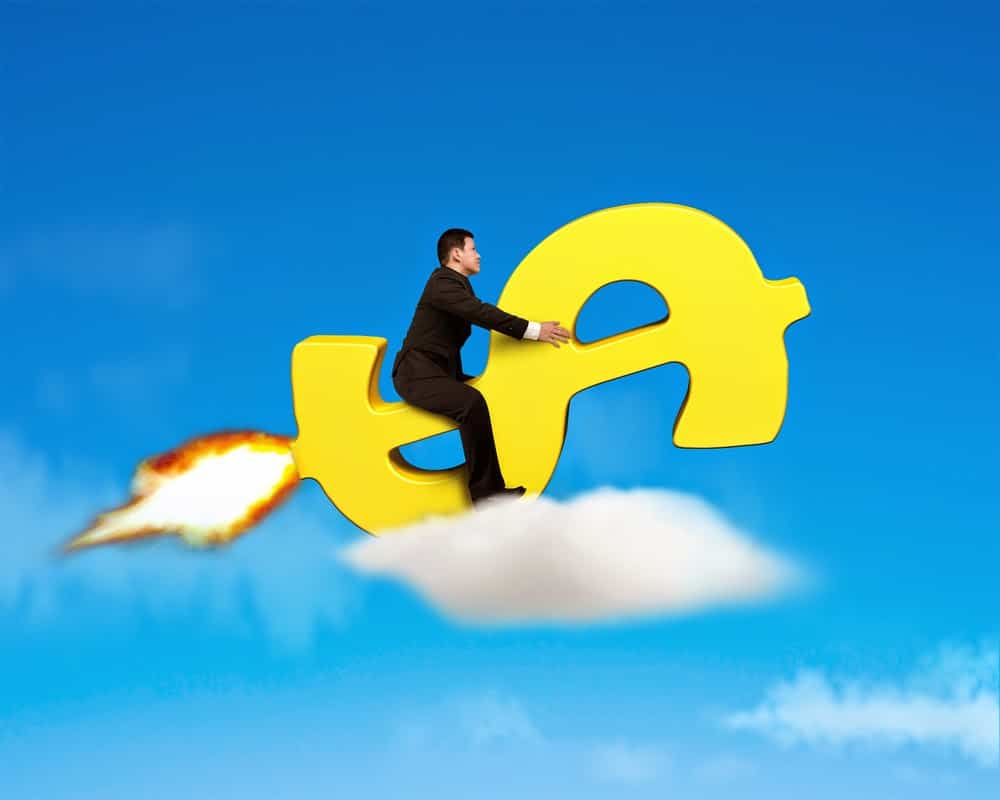 "Battle for Billions" My First and last Cage Fight Tournament in Holland! 
At the end of the 1980's we (Cor hemmers,Thom Harinck and myself) started promoting and producing Big Fights in Europe (Peter Aerts vs Maurice Smith, Ballentine vs Dekker. Ernesto Hoost vs Rob Kaman just to name a few). I became one of the first fight promoters that made television deals for the kickboxing sport. Not long after the first UFC, I could see the huge potential of this "new" concept of promoting the fight sport. So, I became the first European Cage Fight Promoter/Producer!
Two decades after the Dutch press ridiculed my Cage fighting Promotions calling it "human cock fighting"  it became a billion $ sports industry!
https://www.nrc.nl/nieuws/2017/10/06/kooigevechten-waardevol-voor-live-tv-13256508-a1576194
Following the success from the first Cage Fight I produced in Antwerpen Belgium,  June 7th 1995 (just two years after the launch of the UFC, Dana White was not involved at that time)!
https://www.volkskrant.nl/nieuws-achtergrond/alles-mag~b9f05623/
After the first Cage Fight in Antwerpen Belgium I decided to ride the wave whilst she was hot, immediately planning on promoting and producing another event.  Only this time we would be bring it home to Holland.  Henk Kuiper's invited me out to Emmen to discuss a possible corporation for promoting a Cage fight in Emmen.
It didn't take long for us to come to terms, shake on a deal and to have contracts written up between Henk, myself and Henri Corbeel, who would supply the Cage.
I now knew how to play with the press, this was a gold mine.  Henk could get the ticket revenues, I would pay for the production cost and keep the rights, while Corbeel was paid for bringing the Cage.
I started to feed TV with the first coverage of the Rooze vs Oetelaar fight (first Cage Fight in Belgium Antwerp) and the response was overwhelming.  There was not a single news outlet that wasn't talking about the upcoming Cage Fight in Emmen 21-04-1996.
With exposure and popularity comes Politics.  The ministry of sports would do anything to forbid this terrible form of human 'cockfighting'.  A report was written by Maarten van Bottenburg about the fighting sport getting tougher and every radio and TV station was using my Belgium footage for promoting the show.  The result was that the show sold out, I think about 2500 tickets at a price of 100 guilders which was very high at that time.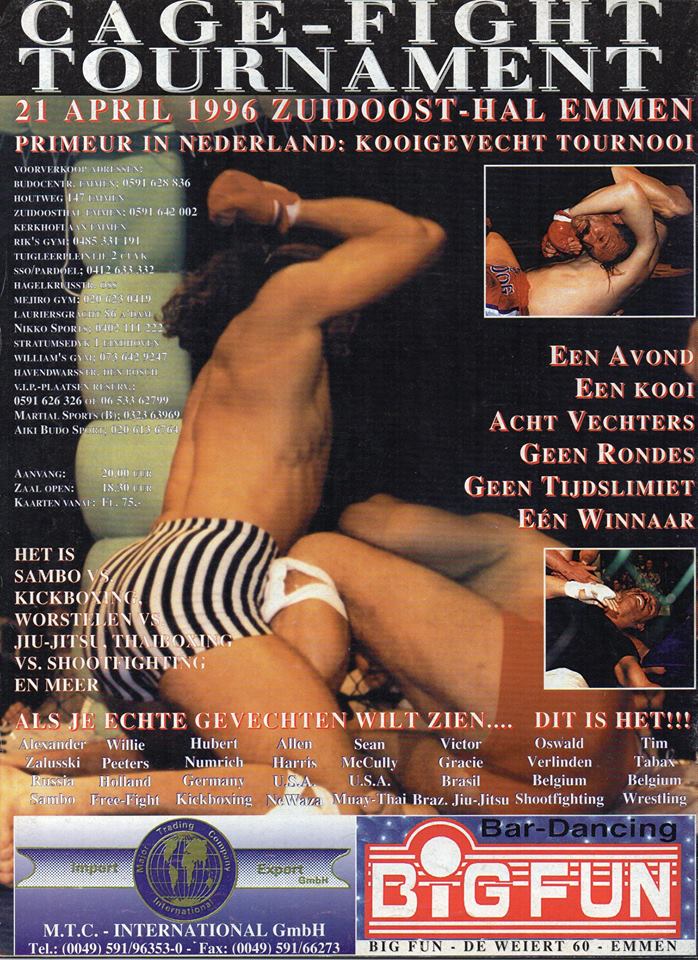 https://isshindojo.nl/data/documents/Van-Bottenburg-Heilbron-De-verharding-van-het-wedstrijdvechten.pdf
I made sure we had fighters from Germany, Belgium, USA and other countries, we had broadcasters lining up to witness the event.  I was asking 2500 guilders per minute for news and most of the broadcasters wanted 2 or 3 minutes.  In Holland, some of the fights were broadcasted live on BNN, a Dutch Broadcast and then there were the Talk programs after the fights.  ZDF, RTL, SAT 1 in Germany, (some were fighting for exclusive), Belgium TV, British TV, the list was endless…
I worked three days straight, no sleep, faxed contract after contract to the Broadcasters and did nothing exclusive.  The day of the fight was one I will never forget, there were a lot of rumors the fight event was going to be cancelled.  But Henk was a good Promoter, he had all the right papers and then got an OK from the Mayor and the Police before the event took place (later a rumor spread that the mayor got a free cruise with his family as a bribe).  But of course, the little town Emmen had never experienced so much press, it was only known for the local Zoo, so the local political officials were under a lot of pressure.
One day before the event started, I hardly slept and to make things worse I drank bad milk which caused my stomach to perform all kinds of weird and gross spasms.  I sat down at the Press Conference and there were more cameras then I have ever witnessed at all previous Thai Boxing shows combined.  I felt horrible and asked Henk if he could do the talking, I was sitting there like a zombie, no sleep and feeling like death becometh, with a stomach ache so bad that the projectile vomiting could only be rivalled by that of the Exorcist Linda Blair.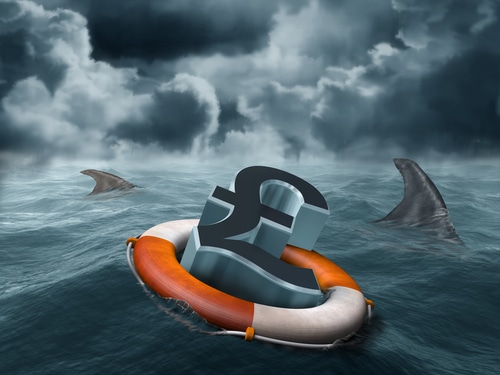 The next day in the morning we had a meeting with the Fire Department as the event took place in Sport Hal Zuid Oost we had to follow the safety procedures.   We had to safely build all the seats for the spectators.
It was clear the Fire Department who in the first few months were very helpful and very enthusiastic, said OK to all our plans; but now they were under pressure by the Dutch politician Erica Terpstra (In the Fight Sports she was described as the 'fat elephant'.  Erica Terpstra won some swimming medals at the Olympics in 1964, but according some fighter rumors she turned into a fat cow politician because of her "forbidden" supplements she took to become so successful at swimming.  She publicly called the sport, 'barbaric' and she would 'do anything to stop it'.
Well after she tried everything else, I am sure she ended up at the Fire Department in Emmen to stop our Cage Fight in Emmen.  The Fire Department Chief said after inspecting the venue and the seats, that we 'needed to have fire stairs every 6 meters' (we had 10 meters), but at that time two months before the event, when we showed our drawings and plans the Fire Department approved our plan.  They knew we could not change this seating plan on the day of the event.  If we could not change this, they had to cancel the event.  I quickly developed a new credo, 'where there is a problem, there is a solution'.  I saw some wood-chippers cutting trees out back behind the Event Hall.
I ask them if they could come and I showed them our problem.  I needed them to saw a walking path at each 6 meters, I ask the guy who built the seats how much it would cost if I would cut some of his seats and then made a deal with him.
They started to saw away and after two hours I had my 6-meter escape stairs as was requested by the Fire Department.  When the Fire Department came, their mouths were speechless, finally the commander said well it has to be approved by a commission before we can allow people to use these, at that time it was 1-hour before the doors would be open, outside there was already a lineup of 2500+ people.
I told the commander of the fire department here is the key, you want to keep this place locked, fine.  Let me put my cameras on the roof in front of the building now, where the people who drove all the way from all over Europe for this event will not be too happy with your decision, I'm sure we can expect a huge brawl, only now right in front of the entrance door without referees and you are responsible for that?
Then the doors opened and the public entered the venue.
The event was a success, Dutch Willy Peeters won the whole event with three fast stoppages and won $20,000 dollars. I invited Bob Wall (movie star actor in Bruce Lee movies) and Chris Peeters (father was John Peeters once married to Barbra Streisand and former executive of Sony Pictures) they did an excellent commentator job! The Dutch press who came was less happy, newspapers wrote: "Public screams for Blood, Public not satisfied at Cage fight and Cage fight with a high dose of hugging".
The press screwed themselves, they expected a blood bath but with two referees present and many martial arts judges and officials, the event was without incidents.
Newspaper-The Volkskrant: "The Public Screams for Blood during the Cage-fights"
https://www.volkskrant.nl/nieuws-achtergrond/publiek-schreeuwt-om-bloed-tijdens-kooigevechten~b0e7dd8f/
Newspaper NRC: Controversial Cage Fighting recipe for world Peace
https://www.nrc.nl/nieuws/1996/04/22/omstreden-kooigevechten-het-recept-voor-wereldvrede-7307393-a511985
The police even said that we could come back anytime they had not one single fight or incident outside the Cage.  The reality was that some of the journalist were not satisfied as they could not get the right bloody shots they wanted to supply their newspapers with jaded headlines.  Some actually changed their tune completely and wrote positive articles about the atmosphere and the athletes.  After the fight, some serious money came in.
I sold 250K worth of minutes just to the news outlets and talk shows.  Plus, another 80K I made upfront for video distribution, just for the Netherlands; selling my rights to Jack Pijnman video distributors.  Later I sold the rights to Germany and other countries and also a few other TV deals.  The Cage Fight Series made more than half a million guilders in less than 6 months.
It was time for another Cage Fight and I made a request to the Mayor of Eindhoven and Den Bosch to have an event held in those cities.  Den Bosch was planned first but we were refused as according to the Mayor and Police the public safety could not be guaranteed.  I was young at that time and I could not believe this bullshit, so I went to court. I won the court case and they could not stop the event because of public safety, I had the testimonies of the police in Emmen that everything went without incident during our previous event in Emmen, so the judge ruled in my favor.
Or so I thought I won, but I learned a good lesson.  If the government does not want something to happen, they will always win in the end.  When I asked for permission to hold the event in Den Bosch we were stopped on a 'morality/chasteness' clause.  I could not believe what I heard, so I fought again and brought it to court.  This time my lawyer was from Bram Moszkovitc's Law Firm.  (He sent one of his lawyers, Mr. de Jong who had a terrible stutter).  After listening to two hours of Mr. de Jong's stutter the judge told me I was at the wrong judge (which he could have said that from the beginning) he said it was something for civil right and I had to present my story to them.
I then wanted to take the written statement from my lawyer but he refused, I took it anyway and delivered it to the address of the civil court.  Then Moszkovits called me saying he needed another 10.000 guilders in advance, I ask him for what?  He said to prepare the story for Civil Court.  I explained to him he would not get a penny, I ask him if he was sick in the head, first he sends an employee who had really bad stutter (no wonder a 15-minute speech would take two hours) then he makes a mistake by going to the wrong court and finally for just 1 postage stamp he's asking 10.000 guilder's?
He then said 'he would send a team of collectors to get this money'! 
I explained in a phone call I would deliver his message to the Cage Fighters and joked that he might have to use his skills as a black belt Judoka to roll with some of the fighters who did not really understood his way of doing business. The collectors never came!
Moszkovits was shady (multiple complaints in several high profiled cases) which resulted that on the 30thth of October 2012, it was ruled by the Dutch Order, that Lawyer Moszkovits could no longer practice law!
I proceeded with another local lawyer from Eindhoven my case and when the day came I had to go to court, I was full of confidence but I was about to find out how the system worked.  I had arguments that there was a 'Hennep (weed) Fair' in Den Bosch and also the group Rockbitch was allowed (Rockbitch was a rock band, of all girls playing almost naked, waving their breasts around and throwing golden condoms to the audience. The one who catches the condom could screw one of the band members, no one remembers the few notes of music they actually produced).
My argument was that because of these samples I mentioned they should not stop my fighting event because of morality/chasteness.  The judge would rule in favor of stopping the events based on the grounds the government had used morality/chasteness.  I lost my cool (bad thing to do in court) I told the judge this was 'retarded'; this would mean if my Cage fighters would walk up to the cage with a Pan/Skin Flute playing some dull song the event would be ruled as a music concert so then it would not be a problem?
The whole court room started laughing, including many journalists that were present; but the judge was not amused and he had made up his mind (or had it made up for him) so the ruling was negative.  No more Cage Fights in Holland (all districts would now of course use the same arguments to stop events from happening in their district, that's how it worked).
I saw my potential millions/billions vanishing, I could not believe what I heard, morality/chasteness?  'This is Holland for F… S…..'.  Later I did manage to produce one more Cage Fight Event on "Dutch" soil, the Event took place on the beautiful island of Aruba (see chapter birth of Golden Glory).
"Entrepreneur under fire" was the headline of a me in a Dutch Magazine about entrepreneurs (Drieluik)!
I then predicted in this magazine interview that the investor who would back me up would make a lot of money, fast forward two decades:
Dana White on $4 billion UFC sale: 'Sport is going to the next level'
http://www.espn.com/mma/story/_/id/16970360/ufc-sold-unprecedented-4-billion-dana-white-confirms
Fast foreward 2 decades after my first Cage Fighting Championship in Antwerp Belgium: Jan 5th 2016-City of Rotterdam gives permit for the UFC to stage an event in Holland!
http://www.mmaplanet.nl/mmanieuws/gemeente-rotterdam-geeft-ufc-vergunning-voor-8-mei/
New Investors and advertisers pay attention here, feel free to contact me……
(C) Bas Boon www.basboon.com