Tesla's Musk Takes on Facebook's Zuckerberg in Epic UFC Showdown. Why would billionaires jeopardize their health and ego to fight each other in a cage? I can quickly answer this as one of the world's biggest fight promoters. My upcoming book, "The Fight Game Mafia," will soon be available on Amazon (I think in two more weeks). This book will give you a ride of a lifetime. It contains four decades of my personal experiences about the rise of the Fight Game Business.
I even predicted in a famous magazine 42 years ago that the Fight Business would dominate all sports in the future. The exact moment in which the fight business is today. This combat sports business is a cutthroat business like no other business. I had beef with Dana White and the UFC, which my new book will discuss in detail behind the scenes.
I don't hate the UFC, even not after what I experienced with them.
Readers who think I have a grudge and anger against Dana White and the UFC, I have to disappoint you. I admire Dana White and the Fertetties for building this Fight Game empire. That does not mean promoters do not fight dirty. The rules in the US changed after the famous Don King and Muhammed Ali scheme. From then on, you could not simultaneously be a manager and a promoter (conflict of interest). But here lies the secret of a suitable promoter. How can you keep the talent happy and fighting exclusively for you? If Dana White says he thinks Tesla's Musk vs. Meta Mark will take place, I believe him.
I know that Mark Zuckerberg (who changed the name Facebook to META) has been a big UFC fan. He even recently hired a whole UFC event for himself, his family, and his friends. He is also a legit black belt in jujitsu. Musk is an exceptional "fighter" when creating and running a business. Here lies the secret of many billionaires and wealthy people. They are driven, focused, and want and must achieve their goals. To do that, they often walk on the edge. They look into the abyss, which gives them more energy and drive.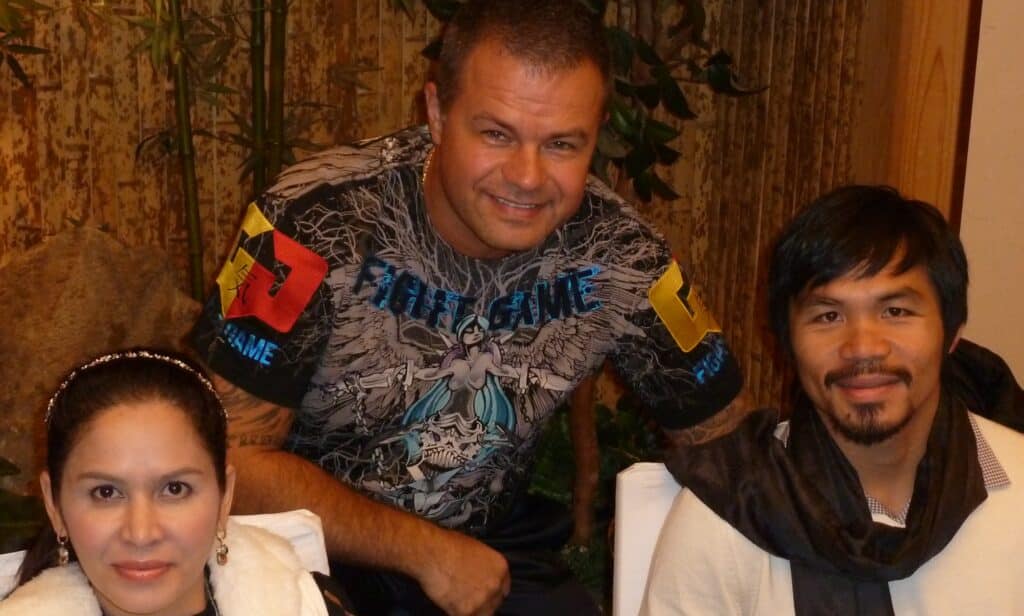 In this picture on the left is the wife of Philippine World Champion Boxing Manny Pacquiao.
According to Grammarly (an AI that helps you with correct spelling and sentences). I belong to the 1% of over a million writers!
I can see this in myself. My Grammarly informed me I am within the 1%. A highly active writer with a check of over 10 million words. In my upcoming book, The Fight Game Mafia, you can read about several attempts on my life. I am the victim of police raids on my company. There was a price on my head. Hells Angels, attack me, etc. Somehow that only motivated me more to perform and succeed where others would have jumped from a roof.
Tesla's Musk is no stranger to such behavior. All hundreds of millions made by his sales of Pay Pal went into Tesla electric cars. People said he was nuts, and he blew up the whole capital. Because of the launch of the Model S sedan in 2012, the company became profitable. There were rumors Tesla was almost bankrupt. Some people say Tesla would be bankrupt in 2008 if it were not for the Mercedes-Benz battery deal. After the Mercedes deal, other companies also started placing orders for electric batteries.
Many successful people have periods they walk on thin ice, including myself. But for them, it's a recipe for performing their ultimate goals.
The next step for Elon could be taking over the Fight Business.
Musk shoots rockets in Space, digs tunnels, and makes eclectic cars. He invested heavingly in AI and bought Twitter. A logical step for people in the entertainment business is to own their own content. Streaming exclusively with influencers on his new Twitter platform. Or soon to become platform app X, I am sure Musk has a plan.
New money was invested, and we know how much the company is worth today. Would it stop there? Think again; Musk wants to shoot rockets in space. He knows nothing about missiles but can see the potential for orbiting satellites in space. The trick is to do this much cheaper than NASA. And so his adventure begins. It takes little time, and billions are going up in smoke. When the sixth rocket is unsuccessful, SpaceX will go bankrupt. Again, we can see the edge, the abyss, the end of the line, all or nothing. This behavior and thrill-seeking moments are typical for very successful people.
Mark and Musk are visionaries.
Zuckerberg changed his name in META and has blown tens of billions into AI and the new virtual upcoming world. He could see what others did not; look no further as Apple coming out with a 3500 Pro Vision headset. The public sheeple now walks around with phones in their faces for eight or ten hours a day. People like Mark and Musk know the future as they are in the business of social networks and content.
Tesla's Musk bought Twitter. There were even rumors he just would let it go bankrupt. Some people already estimate the company could be worth over 100 million now. Look no further at the streaming success of Tucker Carlson on Twitter. Because of that development, I produced the following tweet aimed at Mr. Musk;
Bas Boon with a Billion Dollar Budget, Billion $ Boon!
Imagine that Tesla's Musk would let me and my partner Frederico Lapenda run an entertainment sector for Twitter. This dream duo, backed by a person like Musk or Zuckerberg, would blow everybody in the entertainment business out of the water. Imagine Musk would put a billion dollars into developing movies and fight content. It will not be hard for me and Frederico to get people like the Gypsy King. Or UFC heavyweight fighter Francis Ngannou. Other famous boxers, kickboxers, and MMA fighters will join the new Twitter Fight Game Show. All will compete in a tournament form.
There would be a special section for celebrities. What to think about politicians and world leaders battling out their differences in a Cage. All on an exclusive live stream on Twitter.
I remember Biden stating he wanted to take Trump behind some barn and punch him in the face. Or what about this? I would put it to be all-inclusive and gender friendly, a man vs a woman. I produced the first man vs. woman 40 years ago. Dutch Lucia Rijker fought a Thai male fighter (she lost by ko in round two). Massive media attention for that fight while the Fight Game sports was in the infant stage.
To be the first is what counts. Push yourself to the limit. I promoted the first two Cage Fight Tournaments in Europe!
I remember I promoted the first two Cage fights in Europe, in Antwerpen, Belgium, and Emmen Holland. The news produces headlines like human cockfights about my shows. It was barbaric and for low lives. Now it's 40 years later, and Reuters reports that Zuckerberg will fight Musk in a UFC fight.
I could see Adam Schiff vs. Tulsi Gabbard, a tournament between woke and Christian conservatives. Ooh, the possibilities are endless. Tucker Carlson vs. Anderson Cooper, or Don Lemon vs. Dan Bongino. And Tesla's Musk is in the middle to keep political fighters apart. Imagine the fun and media attention.
The drama and the PPV will be off the hook! How about Victor Orban from Hungary vs. Trudeau from Canada?
Bill Gates vs. Alex Jones! Donald Trump vs. AG Garland, or Scott Adams vs. Xi Jinping. Zelensky vs. Putin comes to mind, Hunter Biden vs. Erick Trump. Ooh, the possibilities are endless. UFC, it's time for a new area, or maybe there could be multiple players in the Fight Game Business.
I sold Golden Glory and Glory World Series to a billionaire, a whole new experience.
When I sold Golden Glory and Glory World Series to hedge fund billionaire Pierre Andurand, I made several business proposals as president of the new GSI company. I was a visioner, me and Frederico Lapenda. We could see this new area coming into the Fight Game business. Like Musk and Zuckerberg betting on AI. Mix fights, crossing over between styles like MMA and Kickboxing. This was the former winning formula of a show named Inoki Bombaye in Tokyo, Japan. Muhammed Ali against Japanese wrestler Antoni Inoki on special rules was one of the first mixed fights. This was the evening where, for example, K-1 fighters would fight against pride fighters on mixed rules. I will explain a yakuza war in my book The Fight Game Mafia. This war ended the Japanese supremacy in the fighting business.
Cor Hemmers, Simon Ruts, Pierre Andurand, Bas Boon, Scott Rudman, Remon Daalder, and Bert vd Ryd are from left to right in this picture. The picture was taken when Glory bought a rival fight show; it was showtime.

Andurand is a special kind of young billionaire who I admire a lot. He loves fighting sports so much that he entered the ring for a real fight. It's overcoming fears and the next goal for people with several Bugattis and all the money in the world. Glory Kickboxing is just a tool, a toy to play with. Tesla's Musk would make everything a billion-dollar business without expectations for the Fight Game.
Twitter could outsmart all entertainment platforms.
It's a scary thought, but Elon Musk could soon be the number-one competitor for the UFC. I could lead the way with my partner Frederico Lapenda. No need to start with a fight among promoters (been there and done that), But I would aim for cooperation with the UFC, not go full-blown against them. I do not see the point of that. There is a good chance that bothers Mark Zuckerberg and Elon Musk already made a deal with Dana White for this worldwide PPV miracle.
Picture from left to rights Marcus Leuer, Pierre Andurand, and Bas Boon. At our first 16-man Tournament in the Saitama Super Arena in Tokyo, Japan!
Man with a mission!
Pierre is exceptional because he is actually a decent fighter. I never met a person who could focus on himself so much. They have shortcomings, and vultures constantly surround the wealthiest people of that caliber. Scam artists can indeed be found around billionaires and people who want to take advantage. Pierre is a mathematical genius. Just for fun, he got an Msc in Mathematics and Theoretical and recently an Msc in Astrophysics. Pierre was also a swimmer in the French national team. Always new challenges also for the brain. He told me the reason to get a master's in astrophysics. He wanted to get his masters from Stephen Hawkins, who unfortunately passed away before Pierre got his master's in Astrophysics. It's a drive always to be busy and productive.
A Familiar Pattern!
I can recognize myself in this; during the pandemic. I started to learn how to learn editing myself. Now, I do everything on an iPhone with a video leap program. Decades ago, I had my own TV studio, where I produced a fight show for TV and video. This cost, like a million dollars, the Betacam SP machine, effects, and Slomo machine. Now it's all available on your phone in 4K for a few hundred bucks; I love technology! Here comes the obsession again. The world is on lockdown. No problem, learn something new. Again, props to Dana White for the UFC fighting island concept during the pandemic. I did the Cage Fight fighting island concept decades before Dana White.
I am the father of a daughter in Holland who is an adult. My son Kato Boon was born two years before The pandemic (he was born in Thailand). Kato was the name of Bruce Lee when he was the driver in the series the green hornet. Tesla's Musk walked a similar path during the pandemic. He did not want to slow down no matter what!
Three of my sons I named after superheroes.
I decided to leave Pattaya for Isan. Thailand would go under a complete lockdown. I named my second son Conan Boon (after Conan the Barbarian). He was born in the middle of the pandemic (like Conan was born in the middle of a war). My third son Ken Boon (Kenneth from Ken Clark Superman), just celebrated his first birthday. Because of my hunger for the entertainment business, I came up with a new initiative, a five-year plan, which started at the beginning of the pandemic.
The start of a YouTube channel named Kato Boon, Family / Boon Family. The concept is a reversed Beverly Hills Billy (successful Tv series in the US). The idea of the channel: a wealthy guy is living a chill life in Pattaya, Thailand. I then move to the Isan farm district near the border of Laos. You see, my sons and I grew up in a reality vlog.
Tesla's Musk is a name all too familiar. His company name comes from the famous inventor Nicolas Tesla.
The power of visualization.
And you see me as a successful fight promoter, and manager suddenly shuffle pig shit on two family pig farms. No more fancy restaurants. Who makes a five-year plan and dedicates 24/7 to producing such a show? The obsessive visionary who can see the outcome. The channel now has almost 50.000 subscribers, all from an I-phone and an idea. I almost achieved ten million viewers and am halfway to where I want to be. I also learned how to work, write with SEO, and maintain and make my own website, not wasting time! Like Tesla's Musk, we have no time to waste, even if that leads to sleep on a factory floor.
I also respect Mark Zuckerberg despite the fact many people dislike him. I love how driven he is and obsessive to reach the next goal. Not Elon Musk or Mark Zuckerberg wasted time during the pandemic. The two billionaires just adapted to the pandemic lockdown circumstances and made things thrive.
This trend of fighting celebrities and company CEOs should not exclude presidents.
If I had my way as a CEO/president, some of the mixed fights would already have made worldwide headlines. It's the power of persuasion. You must be an authority figure and work with NLP to get these monster fight cards. Here is an idea: Netanyahu vs. Mahmoud Abbas, or just a Palestinian fighting vs. an Israelian fighter. Suddenly the cage Fight becomes a recipe for world peace. A fight for ego and our difference in man-to-man combat is not nasty. We can do great things with the money made worldwide from this spectacle.
We can see that Tesla's Musk is active on Twitter and recently asked sarcastically for a CEO for Witchcraft. I am serious about my proposal because it will work. If Elon puts capable people in the right place which visionary ideas and a resume to back them up. It's a master plan with the right ingredients and capable people. A person who believes in you and has the money to make it happen.
Just one fight can change the whole Fight Game Business.
Dana White of the UFC is no exception to this situation. Once again, we saw how the Fertitta owners of the UFC almost blew 50 million. Until that one single fight between Stephan Boner and Griffen changed the course of the Fight Game Business forever. One battle with the proper broadcast capacities, and it's on, the UFC became a money-printing machine! I am ready for this next chapter. What an exciting time to be alive. Zuckerberg was laughed at, the person who lost most billions not even long ago. But believe me, his vision of a virtuous world will lead to trillions of profits. Zuckerberg will become the owner of a real live "player number one"(go see that Spielberg movie, it's excellent). Last year most of those losses for Meta came back to billionaire master Zuckerberg.
My Book, The Fight Game Mafia, will give a nice peak behind the scenes of this billion-dollar business.
This fight between Elon Musk and Mark Zuckerberg is unique. Win or lose. Both become legends, not only as billionaires and daredevils. They are an example to the world that you can achieve everything if you focus. Believe in yourself, and work 24/7 to accomplish these goals. I became lazy after some multi-million-dollar deals, but I am back and in the best shape of my life! The book The Fight Game Mafia is fantastic, and it's also for the none fight fan. In my book, I explain in great detail which books I read. Which paths I chose to become one of the most successful people in the Fight Business. You will read this is not by accident. It's far more than just a Bas Boon autobiography!
The success story of both Elon Musk and Mark Zuckerberg is no coincidence. I love these guys for bringing the Fight Game to the highest level ever. Governments should mandate positively teach self-defense and how to canalize obsessive behavior to reach their ultimate goals in schools. Teachings should also be about achieving anything they want, their health, and handling money and investments.
"Behold, the soy-sipping, gender-studying, woke zombies of Gen Z! They feast on outrage and spout woke wisdom while proclaiming their love for all things LGBTQ+. It's a generation where sensitivity reigns supreme and common sense is a long-lost relic."
We Need Male Masculinity; Musk and Andrew Tate Are At The Forefront of This!
We need some action, so male masculinity needs that human survival instinct, the drive to produce and achieve. It's the topic today and why Andrew Tate is the most googled man on the planet. Tate is the number one preacher of male masculinity. Life is about experiences, and what's more exciting than witnessing a good fight or fighting one yourself?
Tesla's Musk vs. Meta Mark!
This fight is also Tesla vs. Meta and that financial battle I see won by Elon Musk. At this point, Mark Zuckerberg's training experience having a Black Belt in JiJitsu gives him the edge. But that would be at this stage of the preparation. It's easy to promote this fight, especially with an existing organization like the UFC. If we look at some of both men's quotes in the past, it's easy to get their nicknames. This fight can even be promoted as male masculinity vs. woke!
Elon Musk has called himself an alien, so he becomes Elon "The Alien" Musk, the conquerer of galaxies. On the other hand, there is Mark, who I believe once said he was a reptile (I hope sarcasm). So it's Mark "the reptile" Zuckerberg, the rules in the natural and virtual world. And there you have it!
Or Elon "Electric" the Executioner and Mark "The Face."
I am convinced that in the upcoming virtue world, anybody can fight anybody, even against orcs, gods, superheroes, and yourself.
Whatever the outcome of this fight may be, I welcome both fighters. I want to thank both Tesla's Musk and Meta Zuckerberg for being an example. Chapeau! That reminds me of that Quote from the movie Highlands: who wants to live forever? It's better to burn out than fade away!
The success story of how the Fight Game created Brands and Billionaires
https://basboon.com/how-the-fight-game-created-brands-and-billions/
(C) Bas Boon http://www.basboon.com