History, Before Branko Cikatic became K-1 Champion, he fought Don Wilson. As a young entrepreneur and fighter, I loved the fighting world and became friends with Thom Harinck, the founder and trainer of Chakuriki.
Branko Cikatic (R.I.P) hit me on the nose. It turned into a bleeding potato.
I traveled with Thom and team Chakuriki to Miami when I was just 20 (30 years ago), and we stayed in the Peabody Hotel in Orlando. In this luxurious hotel, I did some sparring sessions with Branko Cikatic in preparation for his fight with Don "the dragon "Wilson.
I remember having a bad cold and blowing my nose every 10 minutes. I'm sure the big right hand of Branko that dropped Ernesto Hoost 3x hit my nose and turned my poor-smelling organs into this massive bleeding hideous potato. My memory of that piece of history in time was my ultra swollen nose.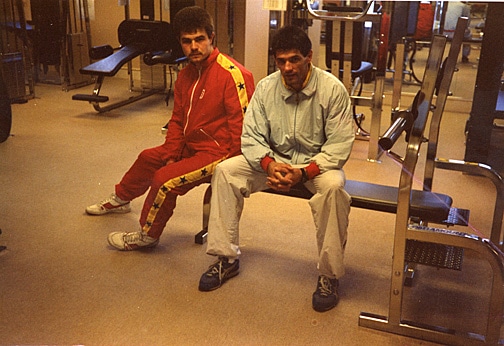 Before the fight with Don Wilson, this happened.
The days before this event were torture for Branko Cicatic as the fight was agreed on approx. 78 kg! Branko was eating his muscle tissue to reach the desired weight for the contest. He was pissing blood!
The day of the fight. And in round 4, Branko lands a vicious low kick which Don Wilson blocks. The result was that Wilson pulled up his knee and fell to the canvas screaming in pain because his knee was hurt.
I still do not understand why they stopped the fight that long as Branko delivered a perfectly legal kick. The battle continued a few minutes later, and Wilson followed an intelligent game plan. He kept circling Branko, which resulted in Branko gas in round seven. Cicatic had to cut weight. Dieting for this fight took too much power from his body, which brought the ko victory to Champion Don Wilson.
History: the first seminar was in Tampa, Florida.
Not long after that fight, I was invited to do a seminar at John Gradin's gym in Tampa, Florida. He saw me winning against this huge heavyweight fighter with Thom Harinck in my corner and witnessed some sparring sessions. It resulted in my first seminar.
I learned a lot from this trip, and I made friends. I stayed friends with Branko Cikatic for the following 30 years. And witnessed his success in becoming the first ever K-1 GP champion by knocking out Ernesto Hoost in the finals. This young piece of fight history became a life lesson for me.
I started to promote shows with Thom Harinck, and Don Wilson became a movie star. We kept in contact. This is what sport is all about—making friends, making a living of something you like to do, and traveling the world!
Bas Boon Congratulates Thom Harinck on 50 years of Chakuriki and historical accomplishments.
The founder of Chakuriki is Thom Harinck. Many martial artists around the world practice this fighting style. You can find Chakuriki fighting gyms in many places around the world. Chakuriki (meaning borrowing power) is the original style of a mixture of boxing, Kyokushin karate, judo, jujutsu, and wrestling. Later Chakuriki became a kickboxing gym with Thom Harinck added Savate and Muay Thai.
Bas Boon is the founder of Golden Glory and Glory World Series.
Bas Boon, the founder of Golden Glory and Glory World Series, later sold his assets to GSI, Glory Sports International, where he became president. Before he achieved his ultimate Fight Game goal, he met Thom Harinck at 17. It's time to celebrate 50 years of Chakuriki.
Bas made this video to show his gratitude towards Thom Harinck. Thom was his mentor and introduced Bas to the martial arts world. Thom, Bas, and Cor Hemmers started promoting the first big fight shows in Europe. A piece of fight history.
The start of the big fight shows in Europe.
Later, Joop Musterd joined them. Together they promoted legendary fights like Ramon Dekkers vs. Gilber Ballentine and Peter Aerts vs. Frank Lobman and Peter vs. Maurice Smith, to name a few. A description of events when Bas travels with Thom to Miami where Branco Cikatic fights Don Wilson. This video shows old pictures from the 80s and 90s, long before any mobile phone.
I became the first Cage Fight promoter in Europe.
Later, Bas Boon is the first promoter who starts to promote similar fights like the UFC. Cage Fights in Europe, starting in Antwerp, Belgium, and Emmen Holland, is the beginning of a long adventure in the fight business.
This would never have been possible without Thom Harinck with Chakuriki, who influenced Bas to become a fight promoter, manager, and event producer. Thank you, Thom, and long live Chakuriki. #BorrowingPower #MMA #UFC #Kickboxing #MuayThai #FightGame #FightSports #history #celebration #ramodekkers #basboon
The Fight Game, I would not want to have missed this for the world! The world of champions and winners.
Cage Fight in Holland, the First and Last," Battle for Billions"! 
https://basboon.com/battle-for-billions-first-and-last-cage-fight-tournament-in-holland/
(C) Bas Boon www.basboon.com