Fighters and Hollywood, can they become successful actors? What about fighters like Ronda Rousey, Quinton Jackson, Oleg Taktarov, and Rico Verhoeven become successful actors?
In the picture above: Lindsay Muro, Bas Boon, Don Wilson, Sherman Augustus, and Quinton "Rampage" Jackson at the Beverly Hills Film Festival.
Hollywood is a magnet for ambitious people.
Hollywood stands for fame and fortune. It is a magnet for people with big ambitions to become famous in the movie industry. Many fighters will give it a try. Unfortunately, that's not enough.
Bruce lee is the most well-known example of a Kung Fu specialist from China who became a Hollywood star! Many came after him. 
Kickboxer Don Wilson was picked out of a phonebook to do movies.
Don Wilson was a world kickboxing champion and was picked out of a phone book to play his first role as an actor. Don started in action movies in the 1980s. Wilson did both. He was producing successful films and was successful as an actor. He is one of the few!
Branco Cicatic had bief shot at Hollywood.
The first K-1 GP champion Branko Cicatic had a brief Hollywood career playing a badass role in the movie skyscraper in 1996.
Fighters like Bruce Lee, Chuck Norris, and Jean Claude Van Damme are the beginning of an area.
Chuck Norris is a successful martial artist that became a successful actor in movies. Jean Claude van Damme slept in a car and tried to train with Chuck Norris to obtain a good role in the film. Eventually, Jean Claude created a successful movie career.
Cross over in show business is savvy. You have music artists going into the film as well. It's brilliant, another platform to express creativity and perhaps discover untapped talent.
The first UFC Champion "Oleg Taktarov" became successful in the movie business.
Frederico Lapenda and I produced and promoted the World Vale Tudo Fighting Championships in São Paulo, Brazil, in 1996. I met Oleg Taktarov (UFC 6 Tournament winner). Oleg fought that night in a 30 min long bare-knuckle war against Marco Ruas (UFC 7 tournament winner). I joked around with Oleg, and some thought we were brothers (we looked alike). I told Oleg that if it were the case, he would look like me. He would be a movie star now. TheWVTC Tournament had excellent fighters and superb matchmaking.
Oleg was an intelligent fighter and even more smart was starting his career in movies. Frederico eventually graduated from UCLA film school and only focussed his energy on making movies.
Why did Oleg Taktarov become successful in the movie business?
The difference between successful people is that some will do anything to become successful. It's their 24-hour daily mission. The smart, successful ones surround themselves with wise people who have access to the industry and follow the advice of successful people. Seek mentors.
Frederico was my mentor, and I am sure he had a very positive effect on the career of Oleg Taktarov!
Oleg was such a character and very persistent. He learned English, took daily acting lessons, and kept super fit. It wasn't long before the former UFC 6 champion Oleg 'the Russian Bear" Taktarov could be seen on the silver screen. His career in Hollywood was impressive. In less than a decade, Oleg was in movies like National Treasure, Bad Boys 2, Miami Vice, Predators, etc. Oleg still loved to train with good fighters, but his focus was the movie business.
We all stayed friends, but Frederico Lapenda focussed on his career in the Film industry as a producer. During that time, I built up Golden Glory and Glory World Series. Oleg Taktoarov and Frederico Lapenda stayed not only friends, but when Oleg acted in the movie "The Way, also known as "Put," the producer was Frederico Lapenda. Thirteen years after the fight between Oleg Taktarov and Marco Ruas in Brazil and still working together!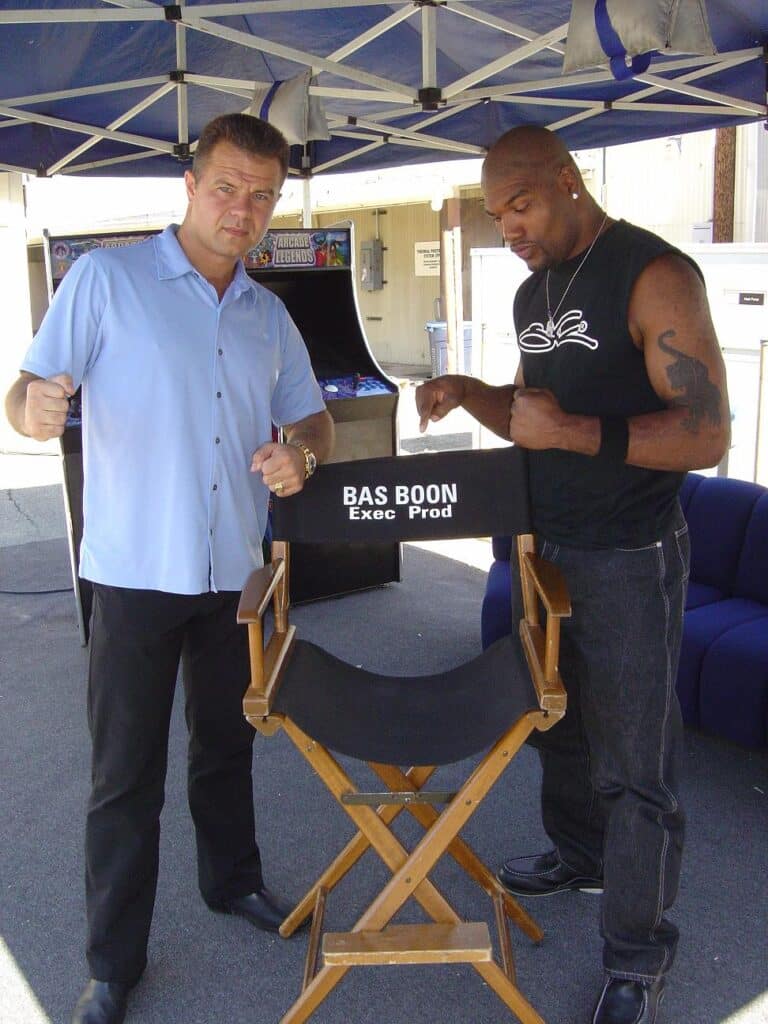 This film starts Quinton's "Rampage" Jackson's movie career.
When I became a movie producer through Frederico Lapenda, we contacted Ray Sefo and Quinton Jackson to play a role in our movie "Bad Guys." I knew Quinton from the Pride days (July 29th, 2011) and told him several times we met in Japan that he would be a movie star. Our movie "Bad Guys" won the award for Best Picture at the Beverly Hills Film festival.
I was very proud of this, even more so because when I met Quinton Jackson in the early days of Pride FC. I always said, man, you have the wrong profession. It would be best if you were a movie star saying you are a movie star. Indeed Quinton also belongs to an exception list of good fighters that must be guaranteed success.
I told Quinton at PrideFC that you should be a movie star. What are you doing here?
This guy was a natural, and he never had acting classes whatsoever. He could perform every second of the day! It was remarkable that Frederico and I started his movie career by casting him in our movie "Bad Guys" as the "Big Black Jap" his first movie in 2008.
It did not take very long. In 2010 Quinton Jackson was cast in the movie "The A-team," where Quinton performed brilliantly as B.A Baracus in the 100 million $ blockbuster! He is a brilliant actor.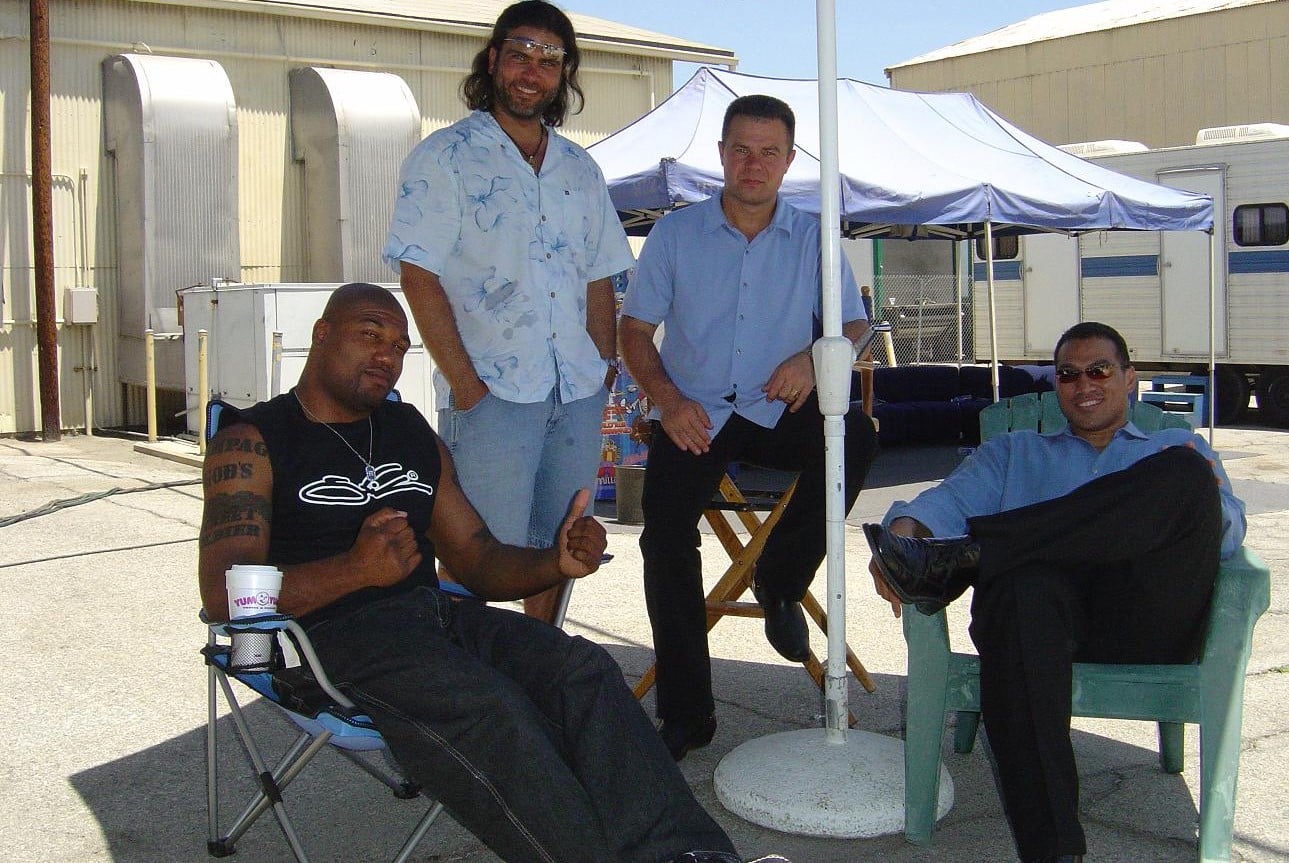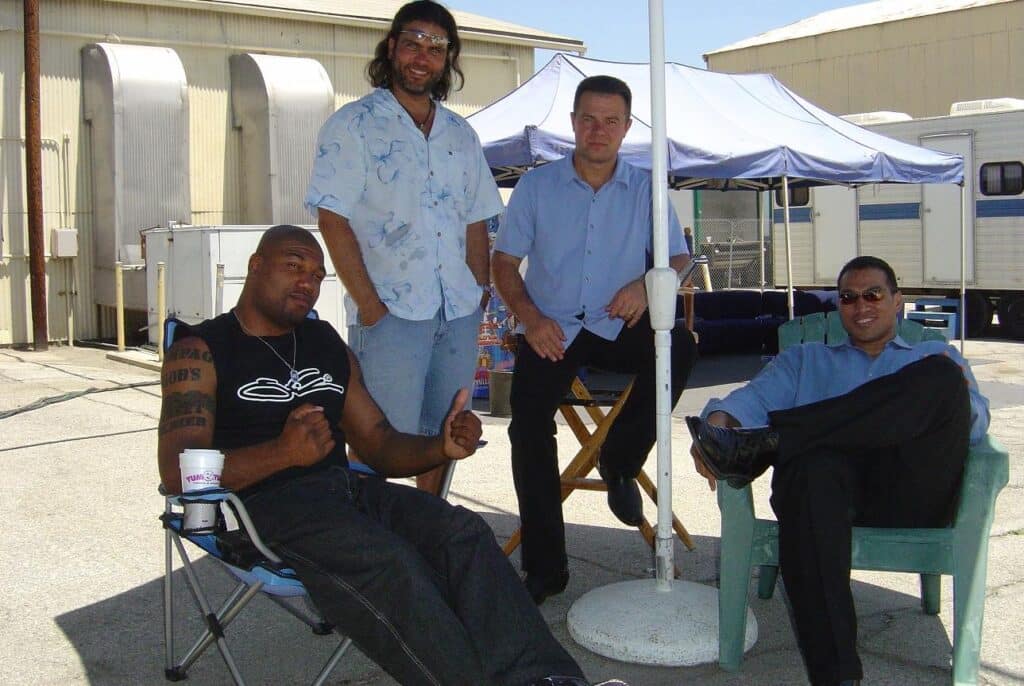 I noticed this opportunity and started putting fighters I managed in movies. Small parts for Marloes Coenen, Gokhan Saki, Semmy Schilt, and Alistair Overeem in the movie Amsterdam Heavy. Semmy Schilt, I gave a small role in transporter 3 with Jason Statham. one of the reasons. There is no Golden Glory fighter in my first "Bad Guys" movie. This absence had to do with their busy schedule as active fighters.
Almost a movie star.
Plenty of success stories; sometimes, the success comes in a roller coaster style. And the person who became the "star "forgets where they came from" Other times, it is impossible to combine an active fighting career with a Hollywood career.
I remember I took Joop Kasteel (one of the many free fighters from Holland) to the Pinewood Studios in England. I booked him an audition for the movie "Gladiator "by Ridley Scott. Joop would have got the role as an actor if it was not for the change of schedule for filming his scheduled scenes. This change of plan eventually led to the Body Builder Ralph Muller getting the part as Joop had to fight in Japan. The producer makes the movie set in a desert in Morocco. And by some unforeseen fate, there was a massive storm in the desert?
It stormed in the dessert; lousy luck for Joop Kasteel.
The incredible amount of rain washed away half of the movie set. This storm caused the delay. He would have been in the movie if the production schedule had not changed. And Joop Kasteel could now have been the new Arnold Schwarzenegger movie star, but we will never know! If you want to know what happened on the way back from the Pinewood studios, you have to read my book "The Fight Game Mafia."
When the stardom goes to your head, you and others think you are too big to fail!
Juggling both careers successfully (fighting and acting) is not easy and has a rare chance of succeeding. Ronda Rousey is living proof that her quick start to fame came because of Darin Harvey's brilliant work. Her fight manager ensured that Ronda could focus entirely on her daily training and fighting career. When she fought in Strikeforce, Darin asked me for advice about fight purses, training, and negotiation tactic. When the UFC bought Strikeforce, Ronda's career skyrocketed. 
I warned Darin about the UFC and Dana White. It's a cutthroat business.
But with money and fame comes discipline and loyalty issues. A bad habit that overcomes many fighters. They cut Darin out of the UFC deal. He lost his starfighter, and I told him it would happen (experience). Her career did not take long with the UFC. I think that had to do with the schedule of daily promotions. Advertisement for sponsors, Tv commercials, and acting in movies like The Expendables and Fast and Furious affected Ronda's fighting performance in the Cage negatively. 
She forgot the basics: trusting the guy who made her career. She is hanging out now with the promoter Dana White and actors. Her regular training sessions and improving her boxing skills were lacking at that point. She may have needed rest! By now, the rumors were: law suites, negativity, stress, stardom, sleeping problems, etc. This avalanche of negativity resulted in Ronda's failing performance in the Cage when she got severely knocked out 2 x. 
Ronda Rousey almost committed suicide.
The sad part of this story is that she almost committed suicide. It drove her to the edge. I am happy she found herself again and is doing well in the WWE!
https://www.newsweek.com/ronda-rousey-tells-ellen-degeneres-contemplated-suicide-ufc-defeat-holly-427496
Ronda Rousey is a guest at Ellen DeGeneres. The self-proclaimed highest-paid fighter in the Ultimate Fighting Championship (UFC). She says she contemplated suicide after her devastating knockout defeat by Holly Holm. Rousey was unbeaten in 12 mixed martial arts contests going into her UFC bantamweight title defense against Holm on …
My experience is to stay humble and loyal to the people who were there for you when you became successful. Never burn bridges with anybody. Remain focused and show discipline and gratitude. Surround yourself with successful people. Stay away from the negative, and you will reach your goals in life. It's a difficult lesson not only for fighters because of testosterone and ego.
Glory Champion Rico Verhoeven is a Marvel Character.
One of the fighters I can see becoming the next big Hollywood blockbuster star is Rico Verhoeven. He is a family man, Glory heavyweight Kickboxing champion, walking the right path. Rico Verhoeven is the perfect character for securing a role in one of Stan lee's Billion Dollar Marvel franchises as a superhero!
My fellow Dutchman Bas Rutten (who became UFC champion) moved to the US. And in 2012, he secured a role as an actor in the great comedy "Here Comes The Boom" I am still laughing about this movie six years later, a must-see!
Quote Bas Boon:
"The achievements in life are Immortal."
Dana White Responds to Bas Boon and Golden Glory
https://basboon.com/dana-white-responds-to-bas-boon-and-golden-glory/
(c) Bas Boon www.basboon.com