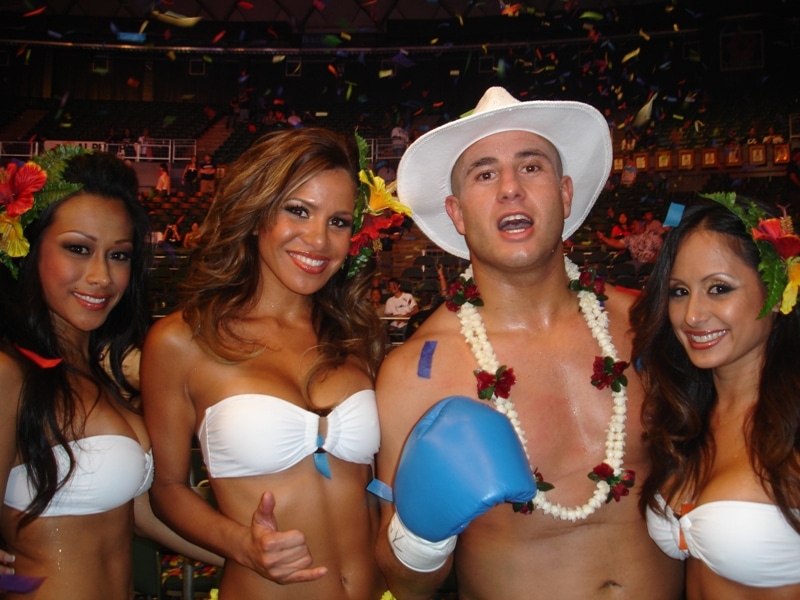 Picture: Gokhan Saki winning the K-1 Hawaii GP
During my career in the Fight Game business I have been a promoter, producer and manager which resulted in a front row seat for all the tricks in the book.
The UFC went behind my back.
In my previous blog I wrote about my experience with Igor Vovchanchin, I made a highlight tape informed K-1 and Pride FC about the champion we promoted and managed and lost the fighter to Pride FC as they went around my management and awarded their offer to a person who they worked with exclusively.
I did some good business with the UFC in the beginning when they were still bleeding money, Semmy Schilt fought Pete Williams and won at the Trump Tjai Mahal in Atlantic city. Semmy's second fight was against Josh Barnett and he suffered a controversial loss (got blood from Josh in his eye and therefore according the rules and me the fight should have been stopped). But the UFC gave a release letter on my request as I wanted to move to Pride FC, which worked out well.
Its now November 2008 and the UFC is doing well, we have built a new heavyweight fighter Denis Stojnic who at that time is undefeated. I produced a highlight tape and sent the tape to Joe Silva the matchmaker of the UFC. He sends me a few e-mails but the bottom line was that the UFC was not interested. Denis asked me many times if he could fight in the UFC and I showed him the e-mail traffic with Joe Silva and informed him the UFC was not interested. Two months pass and Denis knocks on my door and informs me that he will be fighting in the UFC. I am baffled, I asked him but I never had any contact with the UFC. He then told me some friend in Miami he knew arranged it for him. So, I contacted Joe Silva and asked if this was true, he answered yes sure and confirmed what Denis said. By now I am furious, so I asked Joe why he would deal with this person while he knew I was the manager and that Golden Glory built this guys undefeated status. Joe said well you have to sort that out with the fighter. The fighter chooses who will represent him says Joe (like Pride FC did to me by rewarding Kawasaki a contract for Vovchanchin to fight in Pride FC), I answered but I have sent you a management contract, a highlight tape and those are our events. Well you have to deal with Denis about this, so I made an appointment with Denis. Now here is where things get tricky:
If I would sue Denis for a breach of contract, it would have a very negative effect on the team.
If I would not approve for him to fight in the UFC, he would fight anyway, others in the team would follow as the management contracts would then prove to be worthless.
The so-called "manager" friend of Denis turns out to be somebody with no experience at all, but he gets a fighter in the UFC, so more could follow.
I decided to do the following: I said ok Denis you have my blessing, but you can't say you are represented by anybody else to the team and fight for Golden Glory, he agreed.
I then informed Denis that it was a bad decision and predicted they would use his undefeated status to be destroyed by putting him up against their upcoming champion. I told Dennis he would need some build up fights in the UFC, gain momentum, experience for the longevity of his career. One of the great things about Denis was that he was ready to fight anybody but needed to be protected by his management.
I contacted Joe Silva and asked for some build up fights, he informed me the UFC determines who fights who and that I should talk to Denis and his Miami manager.
I then warned Denis and told him, the UFC will use you and when you lose 1 or two times against their upcoming talent, you are out and the undefeated record we built promoting will be lost and there is no going back,  you will be destroyed (like Vochanchin ended up against Hoost like I previously wrote). Denis said don't worry I will not lose.
It's now February 2009 and Denis Stojnic is fighting against nobody else then Cain Valasquez in his first UFC fight and loses by TKO (punches) in round 2.
His second loss comes against Stefan Struve in Germany and Denis is cut from the UFC.  The UFC started to email me bad publicity about Denis which apparently was provided by his Miami "friend manager". They got into some payment disagreements and then the mud throwing started. I like Denis as he came to train and wanted to fight but now it became a whole lot more difficult to get the right fights for him. The UFC got also some bad karma, Denis caught Struve with some vicious shots and elbows which resulted in one of the bloodiest fights in UFC history. To result was that the headlines in the German press with bloody pictures of that fight did not go unnoticed. It resulted in the cancelation of TV contracts and caused the growth of the UFC to slow down in Europe especially in Germany (I did not fight the UFC about this dispute, but leanred from the situation).
Struve vs Stojnic bloodbath
This is one example of conducting "business" as a manager I discuss in my book, there are more stories like this and I describe this in great detail.
Surely as a manager I pulled my own pranks when it came to strengthening my position.
As I have been on both sides of the aisle, I have to be honest about myself, so hereby two examples how I manipulated K-1 to unwillingly sign another Golden Glory fighter.
I remember that Chalid Arrab was booked in Japan to fight Amada which was a known boxer. As Chalid (nick named die Faust "the Fist") was basically a boxer the Japanese thought it was a great matchup. 3 april 2007 Chalid is booked to fight Amada in the K-1 japan, but he gets really sick two weeks before the fight. Instead of cancelling the fight, we made a deal with Chalid to say nothing and fly with us to Japan. Together with the team we brought Gokhan Saki who the K-1 did not want to sign before. One day before the fight in Japan we report that Chalid is really sick, but at the press conference Gokhan Saki was ready, he even brought his fighting shorts (purely "coincidence" of course). The worst for the Japanese who accepted the fight with Saki 20 hours before the fight was that Amada was a boxer and trained for Chalid who was more a boxer himself. The result was that Gokhan Saki made the fight into a low kick festival which resulted in the Japanese guys leg turning into a raw bloody mess. Gokhan Saki won by ko in round two, the Japanese and Amada were not amused to say the least. The K-1 was pissed and did not offer Saki a contract and tried to blame the management.
https://www.youtube.com/watch?v=SJ6hQgGvH3k
Saki vs Amada 
The same strategy but another excuse.
It's now 2008 and the Hawaii K-1 GP qualification tournament has one more open spot which is reserved for Chalid Arrab. Surely Murphy's law can be applied into this case, Chalid trained hard for this fight, but for some unforeseen reason the United States did not give Chalid a visa to travel to Hawaii. As the visa was suppose to be arranged two weeks before the fight, but we had to wait till 2 days before departure, we did not inform the K-1 about this. Upon arrival in Hawaii we informed the K-1 that Chalid might be coming tomorrow because of visa issues, but we knew they would not give him the visa in time. Surely the next day at the press conference a familiar face; Gokhan Saki. The K-1 is extremely pissed, so I agreed I would not use Golden Glory T-shirts, so we became "Team Rebell", same faces another name on the shirt. There is simply no way to arrange another fighter for the tournament so Saki is entering the qualification tournament, he wins the Hawaiian GP by defeating all three opponents by knock outs. The worst scenario for the K-1, another Golden Glory fighter makes it to the final 16 in K-1 Japan. Saki continues his superiority by defeating Ray Sefo and Ruslan Karaev and secured a third place in the K-1 GP finals.
https://www.youtube.com/watch?v=SarPRzDZ_zk
As a promoter you need to protect your business model, sometimes you have to be creative.
I understand the UFC, it's much more interesting to take away potential fighters with great records from other organisations then to buy the promotion/brand. They bought Pride FC and Strikeforce but never got Fedor, this is just an example.
The UFC was right to not want to do a co-promotion with M-1 and it was a logical and good decision to make an exception with Mayweather promotions and MC Gregor promotions as together all parties benefit and the half billion $ fight became a reality.
You can't blame MC Gregor for creating his own company, the same goes for Mayweather or Golden Boy promotions. Those fighters all started as a fighter at some promotion and learned along the way.
The fight game business, I would not have missed it for the world.
Bas Boon Ten Rules for Success
Embrace change & stay away from negative people.
Focus on the things you can control, train your brain to focus on positive outcomes. 
Knowledge is power, Practiced knowledge is more powerful, use wisely and continue searching for more.
Take calculated risks!
Study and admire others people's success, never be jealous!
Never give up, don't be afraid to make mistakes and failures.
Make time for yourself, create your alone space, meditate.
Nobody owes you anything, visualise and work on your own success.
Never feel sorry for yourself, don't hold a grudge.
Learn from a previous mistake, never show weakness.
Bas Boon Quotes: It's better to try ten times then do nothing and wonder what if.
 It's how you respond to anything and make it work for you.
The listeners win (I had great difficulties with this one, but I am conditioning my subconscious mind, to become a master listener)
Team Rebel with Team Golden Glory in Hawaii
(c) basboon www.basboon.com