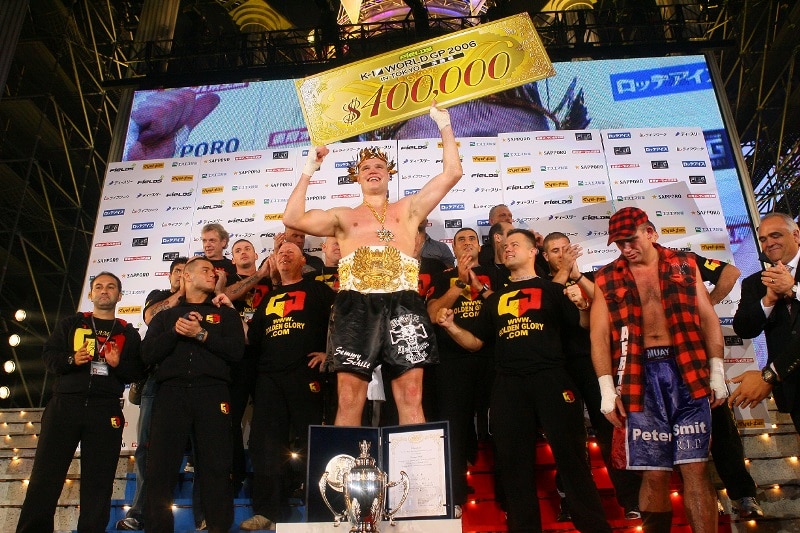 Golden Glory's Semmy Schilt and King Willem Alexander! Golden Glory, the team that kept on giving, the podium for the K-1 GP winner, I had the privilege to stand there five times. Semmy Schilt was very professional to work with. My TV deal with SBS6 ( 5 years live broadcasting of K-1 events and Glory WS events) in The Netherlands brought Semmy fame in his home country, which he deserved. 
The Tv deal results in a meeting and dinner with King Willem Alexander of The Netherlands. The start of Semmy's movie career. His first role was with Jason Statham in Transporter 3!
King Willem Alexander from the Netherlands has dinner with Golden Glory fighter Semmy Schilt.
As a movie producer myself, Semmy was not a difficult road to enter Hollywood. It is up to Semmy to find out if acting is something he likes to do. When I started promoting Kickboxing, MMA, and No Hold Barred fights. I did not think two of my Golden Glory fighters, Alistair Overeem and Semmy Schilt ending up in the dutch royal palace having dinner with the King of Holland.
Speaking in terms of "Kings." I consider this a crown on my work as a manager. What a roller-coaster adventure this life has been.
Believe in what you do, and do not let failures and others deviate from reaching your goals. We can do everything.
Semmy Schilt drives a truck of supplies to disaster victims. 
https://basboon.com/semmy-schilt-drives-a-truck-of-supplies-to-disaster-victims/
(C) Bas Boon www.basboon.com