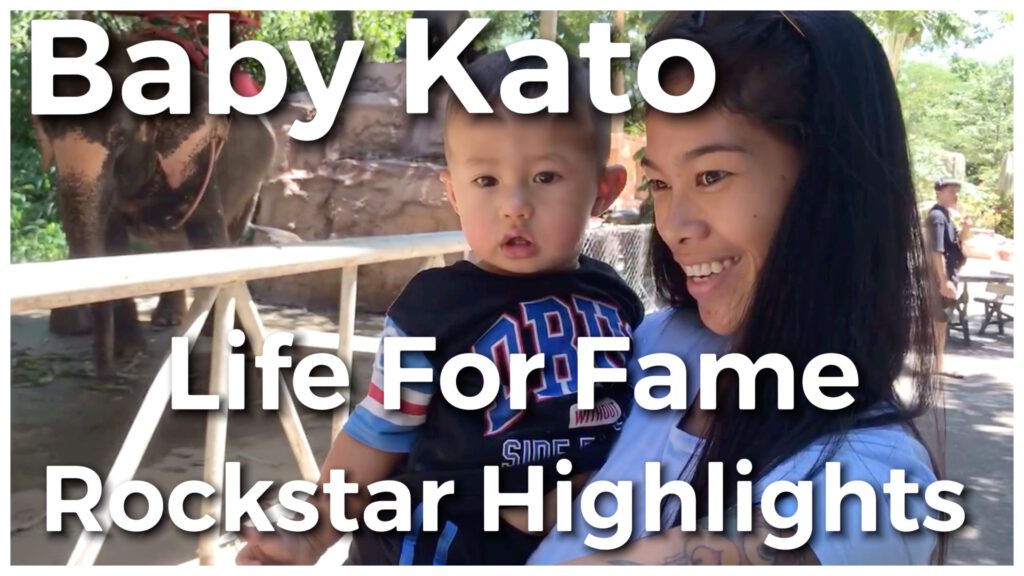 Kato Boon Family Goes Pigshit. Bas Boon Says Life for Fame Rockstar Highlights. The Boon family left a luxurious lifestyle in Pattaya and moved to Isan, Thailand. Everybody who remembers the TV hit (9 seasons) The Beverly Hillbillies, the low-income family suddenly got rich and moved from the farmland to the city of Beverly Hills. I got myself into a real-time opposite situation with my family. Three months ago, the Boon Family left Pattaya City to live on a farm. This district has the smell of pigshit all day long.
The Boon family built the farm in the last two years for the Kato Boon Family. It was never the intention of Mama Rak and Papa Bas to leave their luxurious house and lifestyle in Pattaya. That is until the Thai Government closed the borders because of the Covid19 pandemic. Papa Bas did not hesitate twice with Mama Rak, then pregnant with Conan Boon, he took immediate action.
We are moving from Pattaya to the farm district Isan in Thailand.
The Kato Boon Family decided to leave their Pattaya mansion to live on a farm in the Isan. The Isan is a vast farmland district in Thailand near the border of Lao). No more beaches, boat trips to islands, or fancy restaurants. Check the video Baby Kato Life4Fame Rockstar Highlights. Every morning, the family wakes up with the smell of pig shit.
The Baby Kato Boon YouTube character (Kato Boon Family) was born. Kato is promoting his own baby brand Life4Fame and is becoming a YouTube sensation in record time. Kato Boon'sBoon's Family lives with animals like pigs, chickens, and cows. These farm habits are the new norm for the Boon family. Kato has his papa's blood and is drawn to adventure. He is curious and has endless energy.
Follow Kato Boon on his YouTube channel and see how he grew up with his family in Isan, Thailand. Papa Bas shows the patience of an Angel when Kato pulls Prank after Prank and needs tons of energy. Mama Rak is learning how to be a camera operator. I film all the footage for the YouTube Channel with an I-phone and edit the footage myself.. Papa Bas (original from Holland) traveled the world many times as a producer (www.basboon.com), fight promoter, and manager. He showed he adapts to almost any situation, including cleaning pig shit and moving to the Isan. Son Baby Kato Boon is restless and getting himself into trouble. On the pig farm, there are also tons of pig shit. Kato needs to stay away from this.
Funny Baby Kato Boon is a brat.
Many hilarious funny situations can be witnessed with Baby Kato in an endless stream of daily life events. Bas recognized himself when he was a baby. That should worry him, to say it mildly. Behind the scenes, it is not always fun. We worry, like many parents, when our spouses get hurt. Kato got stitches in his head from 15 months old as he climbed on top of a closet and then jumped. Kato hit his head against a table (everybody was sleeping at 2 am).
At night, Mama Rak and Papa Bas rushed to the hospital, bleeding heavily. Baby Kato got his first stitches (he came out fine). He broke Papa Bas's record three years early for going to the hospital. I was 5 when I received my first stitches.
The next day he put Mama Rak's high heels in the pigshit.
This parenting is a 24/7 job to watch Baby Kato and newborn Conan, but it is worth all efforts. Coming out of the hospital, the first thing we smell is pigshit. We love our children very much. The coming up video is hilarious, Baby Kato Haircut Gone Wrong. Stay tuned.
Kato Boon Family Goes Pig Shit YouTube Channel: http://www.youtube.com/c/KatoBoonFamily
Website: www.katoboonfamily.com
Thailand Island Funny Fishing Fails with Kato Boon.
https://basboon.com/thailand-island-funny-fishing-fails-with-kato-boon/
(C) Bas boon www.basboon.com www.katoboonfamily.com