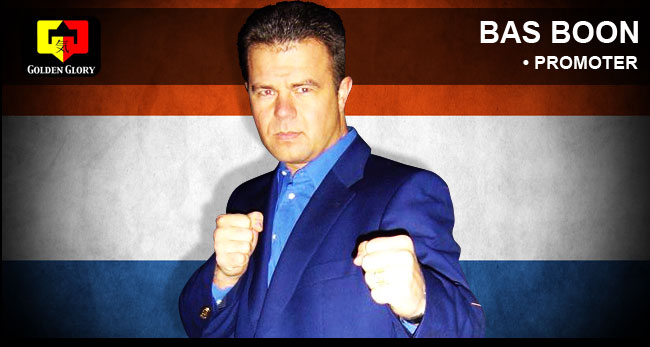 Dutchman Bas Boon started martial arts at 15, and a year later was competing in kickboxing. He went 17-2 in 'American Rules' contests, and when an injury curtailed his in sign efforts, he stepped smoothly into the business side of the martial arts.
Boon came to international prominence in 1999, when with partner Frederico Lapenda, he founded Golden Glory. Initially focused more on kickboxing than on MMA, Golden Glory was never the less instrumental in the early success of the pioneering MMA promotion International Vale Tudo Championships (IVC). As MMA became the world's dominant combat sport, Golden Glory too devoted increased attention to it.
Golden Glory uniquely covers training, promotion, and management at the world-class level. While there are of course notable MMA management companies, notable fight promotions, and notable gyms, it is unprecedented to have all three under a single, worldwide roof.
GG operates fight gyms in in a number of cities including, Breda, Holland, Bucharest, Romania, Pattaya, Thailand, and Berlin, Germany. Future sites are planned for Huntington Beach, California and Moscow, Russia, among others.
The firm has promoted over 400 combat sports events, mostly kickboxing. The latest Glory series has promoted kickboxing or combined MMA and kickboxing cards in Belgium, England, Italy, Netherlands, Russia, Sweden, Switzerland, and Turkey, among others.
GG is not content solely with training fighters, and promoting them, they also are a management company, with a stellar roster, that includes Marloes Coenen, Siyar Bahadurzada, Jon Olav Einemo, Sergey Kharitonov, Alistair Overeem, and Semmy Schilt. Past members of the team include Peter Aerts, the Dekkers brothers, Heath Herring, Rob Kaman, Bas Rutten (through Cor Hemmers), and Gilbert Yvel.
Mixed martial arts is a business, and no matter how you look at it, training, management, or promotion, Bas Boon has been doing major business in the world's fastest growing sport, for a long, long time.