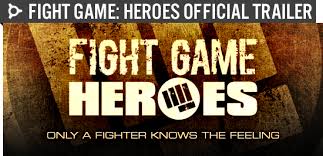 Fight Game: Heroes, Exclusive for Sony Ericsson Xperia PLAY. Always trying to be ahead of the curve are entertainment gurus Bas Boon and Frederico lapenda. They have hit the jackpot with their latest mobile Fight Game Heroes video game.
FG: Heroes is an action-packed fighting game showing what happens outside the ring. Exclusive for Sony Ericsson Xperia PLAY ™Compete in unique environments, consisting of back alleys, grimy bars, and other areas where the laws of the fight clubs reign supreme.
Fight your way to glory by defeating the Combat Sports Champions of past and present in the career mode, or try to beat your friends and foes in competitive game modes!
A Fight Game Interactive Production brought to you by:
Executive Producer: Michael Florie
 Producers: Bas Boon, Frederico Lapenda
https://apkcombo.com/fight-game-heroes/com.khaeon.fghxp/
Of course, there is another story, the story behind the scenes. And as always, stupidity and fighters' greed screwed up a great deal Fight Game Heroes deal. Read in the "Fight Game Mafia" how this incredible two-million dollar advertisement campaign project is sabotaged by one fighter. The producers missed a huge opportunity, all ruined by the action of one soldier.
It is incredible to read the stupidity and greed of people who think they are smart but ruin a great deal. They not destroy only the value of others but also themself. Bad karma comes from it. In the future, people will remember not to work with certain people because of their stupid actions in the past.
Micromanagement in The Fight Game, Alistair Overeem.
https://basboon.com/micromanagement-in-the-fight-game-m-kerr-and-a-overeem/
(C) Bas Boon www.basboon.com